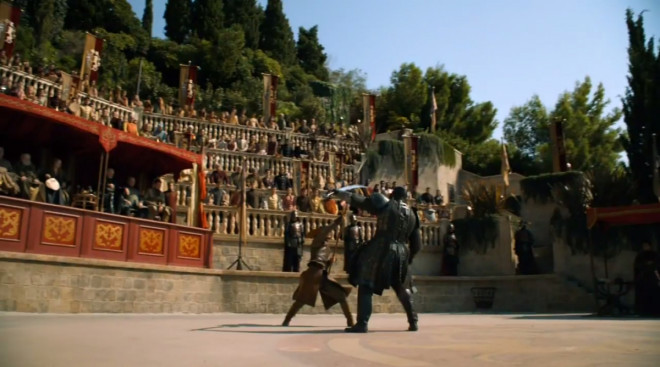 Game of Thrones Season 4 Episode 8, The Mountain and the Viper, will be airing tonight, June 1, after a brief hiatus during Memorial Day weekend last week.
Fans will finally get to see the much-awaited fight scene between Prince Oberyn (The Viper) and The Mountain. Check out the promo below:
Does that scene with Cersei looking rather pleased mean anything? We'll just have to wait and watch.
The duel between Gregor Clegane and Oberyn Martell in this week's episode is set to be a climax for Tyrion's trial.
Actor Pedro Pascal, who plays Oberyn, said about the upcoming episode that it was one of the "challenging things I've ever done."
The other major highlights of the episode will be - finding out what lies ahead for Sansa Stark and what's really cooking in Littlefinger's devious mind.
This is what he did in the last episode 'Mockingbird': [Spoilers]
The official synopsis for this week's episode reads:

"Mole's Town receives unexpected visitors. Littlefinger's motives are questioned. Ramsay attempts to prove himself to his father. Tyrion's fate is decided."
Game of Thrones Season 4, Episode 8 'The Mountain and the Viper', will be airing Sunday, June 1, at 9 pm ET on HBO, or alternatively can be watched online through live stream with HBO Go and HBO Connect.
The link to HBO Go can be accessed by clicking here.
In the UK, the episode will be available live with a NOW TV Entertainment Month Pass.
After 'The Mountain and the Viper', there are just two more episodes left for Season 4 to end.
Check out these images from the upcoming episode: