Real Madrid star Gareth Bale has been on the sidelines for 115 days with 11 different injuries since his world record move from Tottenham Hotspur to the Santiago Bernabeu in September 2013 – and that figure is set to increased, with the Welshman ruled out for a further three weeks with a problem sustained during last week's win over Sporting Gijon.
Bale had looked to finally prove the doubters – who have been after him for two-and-a-half years – wrong in recent weeks, scoring 11 goals in his last eight matches. But his impressive form has suffered a major setback, with the club revealing he has come down with a muscle injury to his right soleus.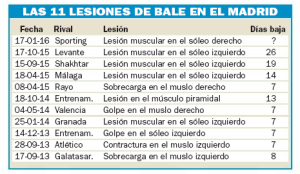 Real Madrid refused to set a recovery time in the official statement. Yet reports in Spain suggest he will be out for three weeks, missing the next four La Liga matches – against Betis, Espanyol, Granada and Athletic Bilbao – but returning for the Champions League last 16 first-leg against Roma on 17 February.
Local media was surprisingly sympathetic to Bale over his latest injury, considering the player's complicated relationship with sports writers in the country. AS pointed out that Bale has missed 115 days of action with 11 different injuries since his arrival.
His fitness has been under question since his arrival at the Santiago Bernabeu. In October 2013, just weeks after his move from Tottenham, Marca reported that the forward had a long-term hernia injury.
Real Madrid denied the report, but some in Spain have since insisted that his recurrent injuries have their origin in his back problems.
Earlier this season, Bale was criticised after suffering a recurrence of an injury in the soleus that kept him on the sidelines for a month with Real Madrid, but did not stop him playing with the Welsh national team in their final two Euro 2016 qualifiers.