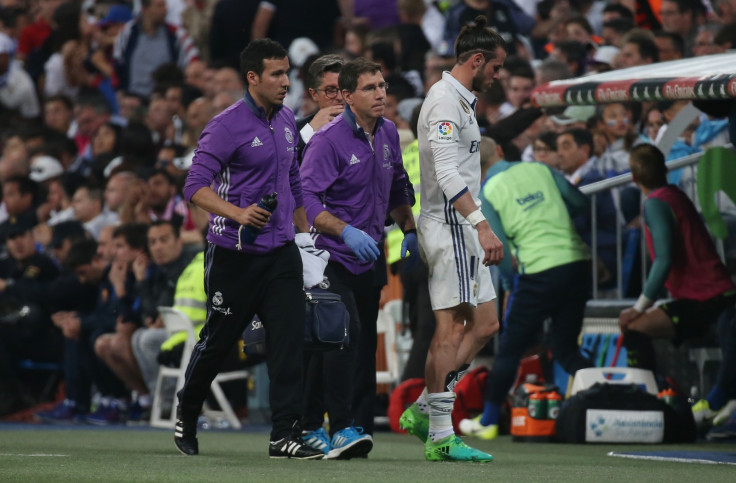 Questions will be raised of Gareth Bale's future at Real Madrid if he cannot stay injury-free and deliver on the pitch next season, according to former Manchester United forward Terry Gibson.
Bale, 27, has been restricted to only 19 appearances in La Liga this season due to various injuries, and is currently out of action after he aggravated his calf injury in Real's El Clasico defeat against Barcelona last month.
The Sun reported on 8 May that Chelsea, Manchester United, Bayern Munich and Paris Saint-Germain were all monitoring Bale's situation at Madrid.
The Wales international extended his contract with Real until 2022 last October, with the deal worth a reported £350,000 ($450,000) per week after tax.
Gibson said Bale cannot afford to miss as many games next season as he has this season amid reports that the Madrid hierarchy are losing patience with him.
"This time last season, we were considering if Bale was on the same level as Neymar and one of the younger players who was going to take over from Cristiano Ronaldo and Lionel Messi. It has just been an awful time for injuries," he told Sky Sports.
"Next season is so important. That's what has stopped him scoring the goals when you look at his stats because he hasn't played the number of games that he should have done because of the injuries.
"Next season is an absolutely massive season for Bale, it really is. It is not easy to say to a player 'you have to stay fit' because every player wants to stay fit and does their best to but he has been unfortunate and maybe he was rushed back too quickly for the Clasico which didn't help," Gibson added.
"I want to see Bale fit, I want to see him prosper again at Real Madrid but he can't afford another season next year where he plays 26 games with a dozen goals and misses a lot of playing time through injury. Then, I think questions will be asked."