Gareth Bale returns for Real Madrid trip to Athletic Bilbao but Pepe and Raphael Varane remain out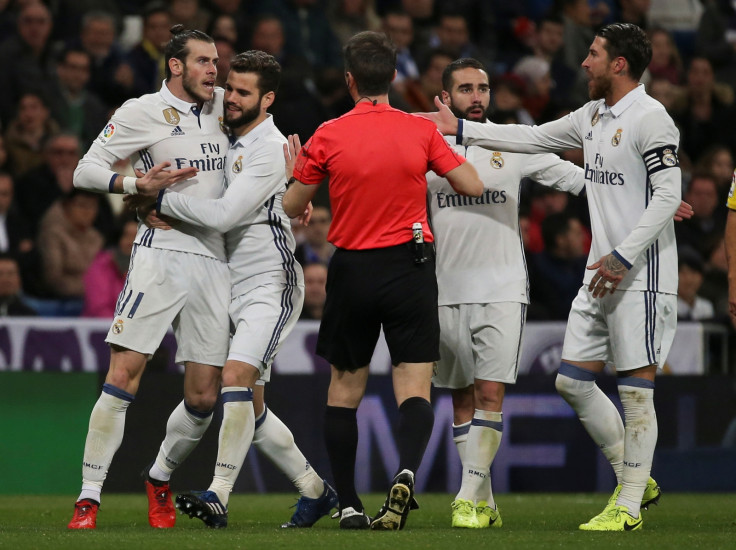 KEY POINTS
Former Tottenham star has missed the last two La Liga games due to suspension.
Fabio Coentrao and Mariano have also failed to make Zidane's 20-man squad.
Los Blancos are currently two points ahead of Barcelona at the top of La Liga table.
Gareth Bale is ready to return to action when Real Madrid visit Athletic Club Bilbao on Saturday (18 March) after missing the last two games due to suspension. However, Raphael Varane, Pepe and Fabio Coentrao remain on the sidelines ahead of another crucial weekend in the La Liga race with Barcelona.
Los Blancos moved to the top of La Liga table last weekend after beating Real Betis 2-1, overtaking Barcelona after the Catalans lost at Deportivo La Coruna.
Bale missed that game and also the previous La Liga win over Eibar after the former Tottenham star was sent off during the 3-3 clash with Las Palmas on 1 March for shoving Jonathan Viera.
But the Wales international is back in Zinedine Zidane's 20-man squad to face Athletic and is expected to return to the line-up to form the famous BBC alongside Karim Benzema and Cristiano Ronaldo.
"You'll see tomorrow who plays. They are all ready and we shall see what happens tomorrow," the Real Madrid boss said in the press conference when asked whether the BBC will play.
"These are three really important points for us. They will defend well just as they always do. We will be put to the test but we've been working hard, we have confidence and character. We need to combine these elements in order to win. I think the only game they lost at home was against Barcelona. We know it will be one of the most demanding games that we have left. It is a difficult place to go to but we will try to play well and win the game, doing as we've been doing up until now."
The complicated visit to San Mames, however, will come too early for Pepe, Varane and Coentrao. The Portugal international already missed the win over Betis while the other two defenders have been out of action for a while.
Zidane also left young Mariano out of his final 20-man squad while speaking about the recovery of Varane, he added: "He is not 100% yet. It was better for him to stay with us (than going with the national team) because the end of the season will be difficult and we will need everyone."
Real Madrid, who still have one game in hand, are currently two points ahead of Barcelona at the top of La Liga table but will be looking to open tha gap on Saturday, as the Catalans won't play their corresponding fixture with Valencia until Sunday.
Los Blancos, meanwhile, learnt on Friday morning that they will face Bayern Munich in the Champions League quarter-finals. Zidane would have liked to avoid the Bundesliga giants but said that his side will be ready for the challenge as they want to revalidate the title.
"I'm as driven to win LaLiga as the Champions League. There are just five games left until the Champions League final and there are 12 left in LaLiga. There are no easy games and in the Champions League we're up against a tough and driven opponent. That is how it has happened, we cannot change it," the Real Madrid boss said before speaking about the special return of current Bayern boss Carlo Ancelotti.
"I haven't spoken to him at all. Our relationship is like that of a master and apprentice. He is a good person, I was his number two and we all know what he achieved here. We know each other well and anything can happen on the pitch. The key thing is not the design but the attitude and admiration," he said.
"Bayern will not be afraid either. They are a strong team that are doing well. It will be a joy to watch for football fans around the world. The knockout tie is 50/50, it has always been that way and especially so with this game. Normally they say it is better to play the away leg first but I don't have a preference. We know we need to go there and score and ten we can focus on the return leg."
© Copyright IBTimes 2023. All rights reserved.