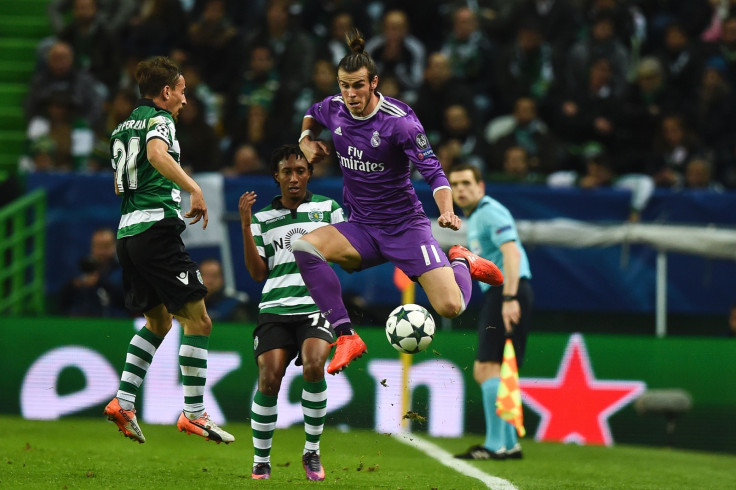 Gareth Bale is ready to make his long-awaited return to action when Real Madrid host Espanyol on Saturday (18 February). However, Sergio Ramos will miss the La Liga clash with the Barcelona neighbours after suffering a minor hip injury during the Champions League 3-1 victory over Napoli.
Furthermore, Keylor Navas, Luka Modric and Karim Benzema has been rested as Los Blancos will have another important La Liga trip to Valencia on Wednesday night.
Bale, 27, has missed the last three months after suffering an ankle injury during the Champions League 2-1 victory over Sporting on 22 November, being forced to undergo an operation in London a week later.
Zinedine Zidane decided to not rush his return for the Champions League clash with Napoli, but the Real Madrid boss has now confirmed the former Tottenham Hotspur will surely have some playing time in the visit of Espanyol.
"Bale is back with us now. He will feature in the squad tomorrow and I'd like to give him some minutes. He is raring to go and get back into things and we're happy that almost all of the players are back. We have two or three players with a few knocks. They aren't important injuries, but they are knocks," Zidane confirmed in the press conference ahead of the Real Madrid clash with Espanyol.
"We all know Gareth. He really is key for us. He has quality, speed and we are aware of the damage he can do to the opposition. We're all happy and him especially as he's coming back into the fold and getting back to playing. He is really excited."
However, Ramos and Fabio Coentrao will be unavailable for the visit of Espanyol due to different minor injuries.
The captain was forced off and replaced by Pepe in the 71st minute of the victory over Napoli. However, Zidane said that he only suffered a minor knock in his hip and should be back in training next week.
"Yes, It is just a bang, not an injury. On Monday I think he will be with us with no problems," the Real Madrid boss added when asked about the absence of the captain for the game with the Barcelona neighbours.
Coentrao's situation is different though. The Portuguese left-back returned from a long-term injury earlier this season, but has since struggled to recover his best form and will need to be on the sidelines some more time.
"We check to see if the players are at 100% every time they play. We will see what we do tomorrow. Fabio is one of the players carrying a knock. The problem for him is that after so much time injured you think you're doing well but there are still are few niggling issues. He wants to come back into the fold and hopefully it is only a matter of days," the Real Madrid boss added when asked about Coentrao.
Meanwhile, Zidane is expected to make some rotations after leaving all Keylor Navas, Modric and Benzema out of his 19-man squad alongside Danilo.
In this sense, the Real Madrid boss revealed that Alvaro Morata will make the starting-line up against the Catalan side, trying to play down the renewed speculations linking the Spaniard with a summer exit due to his lack of playing time.
"I didn't like him being away. Álvaro has come back home. He has had some game time, albeit less than Karim. Tomorrow he will be starting and I know it won't be the last time he starts a game. He is like the others. There are going to be players who play more than others. No one can change this," Zidane said.