Jose Mourinho's decision to change his team's formation early on was a major factor in Manchester United's 3-0 win over Leicester City on 6 February.
United started with a 4-4-2 formation at the King Power Stadium with Marcus Rashford playing alongside Zlatan Ibrahimovic in attack, but the move did not pay off as the visitors struggled to make inroads.
Mourinho changed the formation to 4-5-1 midway through the first half by moving Rashford to the left and deploying Henrikh Mkhitaryan in the No 10 role. The change almost immediately paid dividends as two goals in the space of as many minutes late on in the first half set United on course to victory.
Speaking after the match on Sky Sports, Neville said Mourinho deserved "big credit" for recognising his error early on and making a tactical adjustment.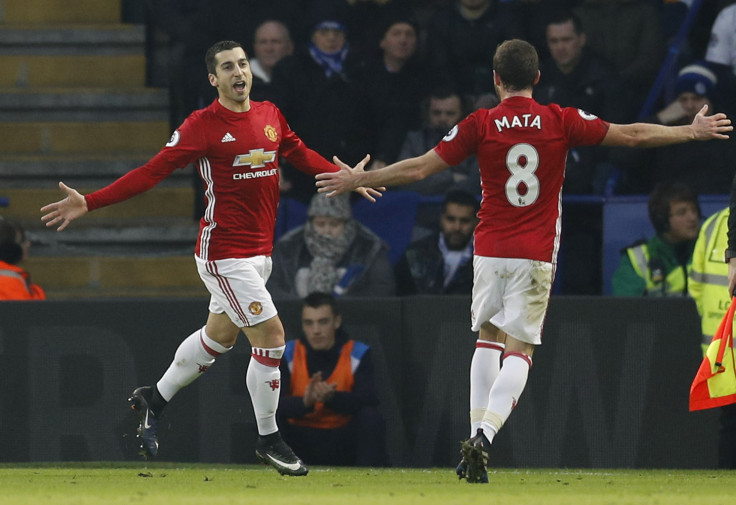 "When you are playing 4-4-2 you need the midfield to link-up play, but they weren't playing into the strikers. The second it changed, United had that connection in Mkhitaryan, who has been United's best player today. His goal changed the game," he said.
"As soon as that happened, it was a good day for Manchester United and Jose Mourinho and it was a very professional away performance.
"He deserves big credit today. It is not easy to convince your players to change the system - 'we are going to play 4-4-2 and this is why we are going to play 4-4-2'," Neville continued.
"Then, all of a sudden, to then turn it on its head, and maybe say 'I've got this one wrong, the game's not going as I planned and I am going to change it' takes some guts.
"Mourinho is a manager who is proactive, makes substitutions after half an hour or changes his system completely," he said.
With Liverpool and Arsenal both dropping points over the weekend, Neville said it was crucial that United won at the King Power Stadium to stay in contention for Champions League qualification.
"Mourinho will be frustrated that this 15-match unbeaten run has not seen them climb back into the top four, and will be frustrated at dropping points in midweek, but his team have played well today," he said.