Gary Neville says Marouane Fellaini's poor midfield performance cost Manchester United against Chelsea
Neville insists there is no need for United to panic despite 4-0 defeat at Stamford Bridge.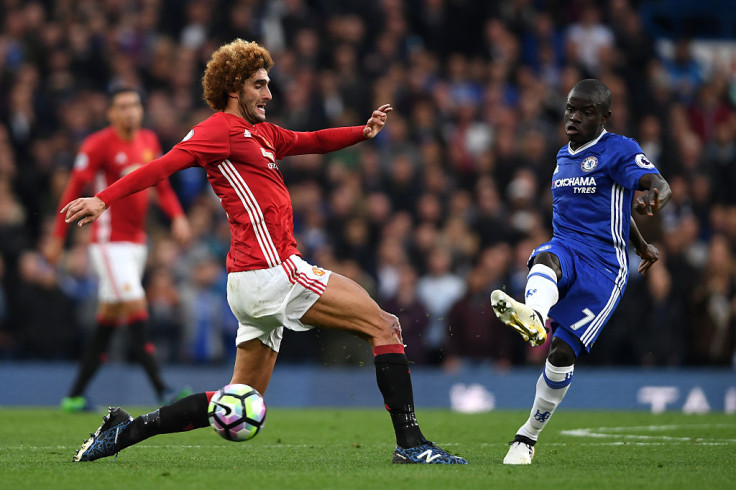 Gary Neville says a "really poor" performance from Marouane Fellaini left Ander Herrera exposed and left Manchester United without any control in midfield in their 4-0 defeat at Chelsea.
Goals from Pedro, Gary Cahill, Eden Hazard and N'Golo Kante handed United boss Jose Mourinho his heaviest ever Premier League defeat on his first appearance back at Stamford Bridge since being sacked as Chelsea manager last December.
The defeat was also United's biggest in the league since losing 6-1 to Manchester City in 2011.
Speaking on Sky Sports, Neville pinpointed the midfield three of Fellaini, Herrera and Paul Pogba as central to United's problems at Stamford Bridge.
"Fellaini played so high in the game today. I am not sure if that was something he was told to do, but it just didn't work. It meant he was detached from Herrera who seemed to be exposed and for United it was not a good 45 minutes," the 41-year-old said.
"I know Fellaini has had a lot of stick over the last couple of seasons with people saying he is not a Manchester United player and it is obvious to see his lack of quality in certain areas, but I thought today he was really poor," he said. "In the first half he had a really terrible game and it was no surprise he came off and I think Herrera dropped a level after being brilliant at Anfield."
Pogba started as a No 10 behind lone striker Zlatan Ibrahimovic but struggled to link-up with the Sweden striker to any meaningful effect.
"Pogba is no doubt confused. He has been signed for such a huge fee and I look at him and it was a difficult day for him. It was difficult for him at times at Anfield as a No 10, so at the moment, I think Jose Mourinho is trying to find a way to incorporate him and when you sign a player for that level of money, you somehow have to make it fit," Neville said.
Despite United languishing at seventh place in the Premier League after nine matches, Neville said there was no reason for the club's fans to panic just yet.
"There will be a massive over-reaction to the game, Jose Mourinho will come under huge pressure and it will be ramped up ahead of the derby [against Manchester City] on Wednesday. I am quite relaxed," he stated. "They have got a fantastic manager who has been proven in every league in Europe nearly, and they have to allow him to do his job methodically over the next two to three years, get it right."
© Copyright IBTimes 2023. All rights reserved.