Former Manchester United defender Gary Neville has slammed Arsenal's performance in the 3-0 defeat against Manchester City in the Carabao Cup final as "spineless" and "an absolute disgrace".
Goals from Sergio Aguero, Vincent Kompany and David Silva gave City a 3-0 win over a lacklustre Arsenal at Wembley on 25 February, raising the heat on Gunners boss Arsene Wenger.
The contest was effectively over when Silva netted City's third in the 65th minute, prompting large swathes of Arsenal fans to leave the stadium early.
Neville said the Gunners squad was lacking in leadership and character and accused the players of "giving up" before the third goal went in at Wembley.
"In the minute before that goal, I mentioned the walking of the Arsenal players, and then the retreating runs of Aaron Ramsey and Granit Xhaka, ambling, jogging back – an absolute disgrace they are, an absolute disgrace," the former England defender said.
"Walking on a football pitch at Wembley, giving up, spineless.
"I have to say, I'm struggling to come up with words now to describe this Arsenal pattern, this engrained, embedded pattern that we've seen," Neville added.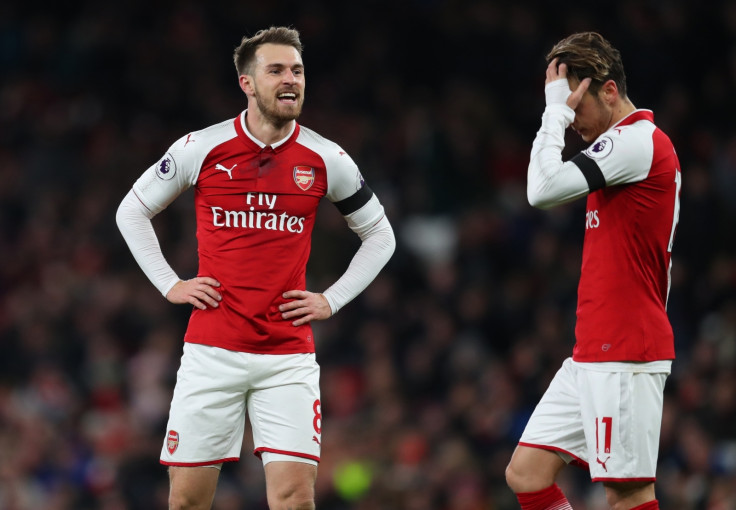 "I've not really liked their defending for a long time, I've not really liked their leadership, the character, and the spirit on the pitch, but you've always liked the football – I don't even like the football anymore. The last bastion has gone.
"It's not even a team that plays good football. Liverpool play better, Tottenham play better, Manchester City play better. There are three or four teams that play better football than them now."
Arsenal are in sixth place in the Premier League, 10 points adrift of fourth-placed Tottenham, and are already out of the FA Cup. The Gunners' sole hope of silverware now rests on the Europa League, where they face Italian giants AC Milan in the round of 16.
Wenger's side face City again in the Premier League at the Emirates Stadium on 1 March.