Gaston Ramirez will not be joining Liverpool, Southampton and Tottenham Hotspur from Bologna this summer after a deal could not be agreed between the three clubs.
The Uruguayan looked set to be on his way to the Premier League this summer, after a successful campaign in Serie A and at the Olympic Games.
Ramirez was reported to be joining newly promoted Southampton after the two sides agreed a deal, but the player's agent Oscar Betancourt says a deal has fallen through.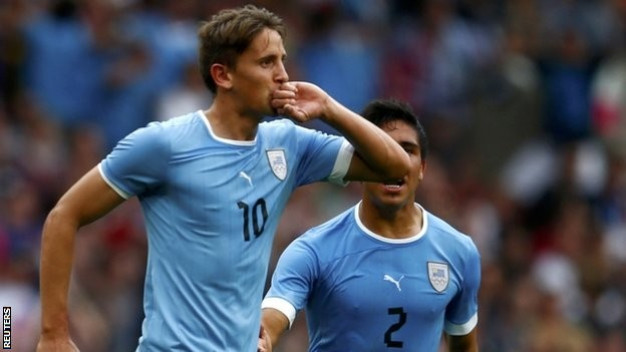 "The negotiations with Southampton have ended," he told calciomercatoweb.it.
"I have spoken today (Wednesday) with the English club's chairman and they are looking at another target.
"Bologna didn't want to close the deal without the bank guarantees.
"The player was very happy with the offer received, but now he will probably remain at Bologna."
The 21 year old said over the weekend a deal had been agreed between the two clubs and that he was looking forward to joining Nigel Adkins' side.
"I'm not sure what is happening yet," he told Corriere dello Sport. "Bologna will tell me today whether I am going (to Southampton) or not.
"Bologna have reached a final settlement with Southampton. There are only a few details remaining but the clubs have agreed in principle. And the English club has reached an agreement with me.
"I could not refuse, it's the classic offer you cannot refuse.
"I would have a four-year deal and they are giving me so much more money that would go towards my family and my future.
"They believe in me and above all they have told me they are going to grow as a club.
"Southampton is a newly promoted team in the English top flight but it has the means to stay there for a few years. To me they are going to build."
If fellow interested clubs, Liverpool and Tottenham, thought Ramirez's rejection of Saints would open the door to firm up their interest, Betancourt has delivered a blow to their hopes.
The duo, who will both play Europa League football this summer, have been heavily linked with the winger previously, but with Tottenham having had a bid rejected and Liverpool as yet having failed to confirm their interest.
"Tottenham is an option to be rejected at this time because they are a long way short of Bologna's demands.
"Liverpool? They have never presented a concrete offer."