Ugandan King Mwanga II was widely reported to have engaged in sexual relations with his male subjects, according to the report by NGO Sexual Minorities Uganda (SMUG) "Expanded Criminalisation of Homosexuality in Uganda: A Flawed Narrative".
Ugandan martyrs were burnt to death between 1885 and 1887 on the orders of Mwanga II, for denying him gay sex when they converted to Christianity.
The SMUG's report is a response to the anti-gay bill proposal passed in Ugandan parliament in 2009, and is aimed to prove that same sex relationships existed throughout Africa, including the territories that now form Uganda, before the colonisation.
According to the report, a commonly cited reason for maintaining, or expanding, criminalisation of homosexuality nowadays, is that homosexuality is "un-African" or, in other words, a foreign phenomenon.
The research, however, showed that throughout Africa's history homosexuality has been a "consistent and logical feature of African societies and belief systems", and that Uganda's laws criminalising homosexuality originates entirely from legislations introduced by the British colonial administration in 1902 and 1950.
"This was not only an attempt to modify what the colonialists saw as unacceptable behaviour in the 'native' populations, but to stop 'moral infection' of colonialists themselves from the 'native' environment," the report explained.
These historical evidences support the theory that homosexuality existed before the colonisation and it is not a foreign phenomenon.
It was homophobia, not homosexuality that was introduced with the British invasion.
The report warned also against the criminalisation of same-­‐sex sexual conduct as a consequence of increasing risks of HIV infection, not just among homosexuals, but in the wider society.
Raymond Byaruhanga, a doctor who runs the AIDS Information Centre in Kampala, said that a general climate of repression against homosexuals is among several reasons that HIV rates in Uganda are rising again for the first time in two decades.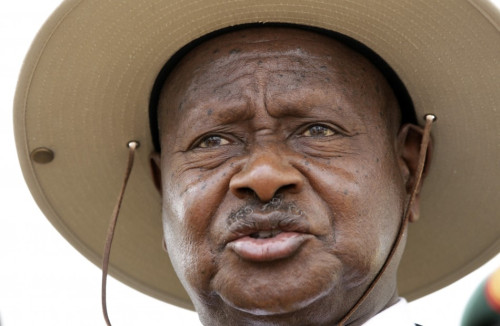 Uganda's President Yoweri Museveni recently rejected the anti-gay bill.
The rejection of the law, however, did not mean a reversal concerning gay rights.
Museveni said that there are other ways to "rescue" people from their "abnormality", and life imprisonment is not the right method.
This means that Ugandan gays will still be persecuted and treated as abnormal.
Gay activist David Kato was brutally murdered in 2011 after Ugandan weekly Rolling Stone pictured his face and that of another man on its cover under the headline "Hang them!" The subhead read: "We shall recruit 100,000 innocent kids by 2012: Homos" and "Parents now face heart-breaks as homos raid schools."