Eight Palestinians have died in fresh Israeli raids on the Gaza Strip, it has been reported.
Gaza health ministry spokesman Ashraf al Qudra told AFP the fatalities occurred in Gaza City, central El-Bureij and northern Jabaliya. A woman and a teenager are among the dead.
15 people, including two disabled girls, were also killed by Israeli airstrikes on the Palestinian territory early on Saturday (12 July).
The two girls were killed when a disabled charity in Beit Lahiya in northern Gaza was struck. Four others were injured during the raid.
"What had they done to deserve this?" said an eyewitness. "They couldn't even run away from the fire."
An Israeli military spokeswoman said investigations as to why the centre was hit by an Israeli tank shell are underway.
Meanwhile, Hamas said Israel also launched air strikes targeting two mosques. Three more rockets aimed at Jerusalem had fallen short, two of them hitting the southern West Bank city of Hebron, with the other striking near Bethlehem.
Israel began the offensive on Tuesday in response to weeks of rocket attacks from Palestinian militants, who are understood to have fired some 600 missiles into the country.
The Israeli military is increasing its presence near the border with Gaza ahead of a possible ground offensive to try to stop militants firing towards Israel.
Expressing his "deep concern" at the escalating situation in Gaza, British Foreign Secretary William Hague has called for a de-escalation of the conflict and a restoration of the 2012 ceasefire.
Mr Hague said he had spoken to Palestinian President Mahmoud Abbas and Israeli Foreign Minister Avigdor Lieberman, expressing his "deepest concern about the number of civilian casualties".
"It is clear that we need urgent, concerted international action to secure a ceasefire, as was the case in 2012," he said.
As both sides continue to trade fire, the United Nations Security Council has called for a ceasefire and expressed serious concern about civilian welfare on both sides. The UN has estimated that 77% of the people killed in Gaza were civilians.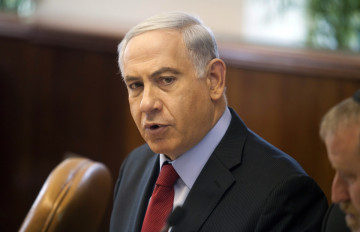 The chief diplomats from Britain, France, Germany and the US are set to discuss how to achieve a truce on the sidelines of talks in Vienna on Sunday about Iran's nuclear programme.
It is the first time since Israel's offensive began that the UN Security Council has issued a statement, with members previously divided on their response.
Palestinian President Mahmoud Abbas also called for a ceasefire, but added that the region needed to return to Israel's 1967 borders.
Egypt's President Abdel Fattah al Sisi warned that the conflict would cost more "innocent lives", as he revealed that his government was in touch with both sides.
The group described the bombing as "barbaric", adding that Israel's "terrorism" gave them "the right to broaden our response to deter this occupier".
However, Prime Minister Netanyahu has said he will not end the campaign until he achieved his goal of stopping the Hamas fire.
"No international pressure will prevent us from striking, with all force, against the terrorist organisation which calls for our destruction," he said.
The death toll currently stands at 133, most of them children. The increase in the number of dead and injured victims have prompted concerns of a medial crisis in the region as the Israeli offensive continues.