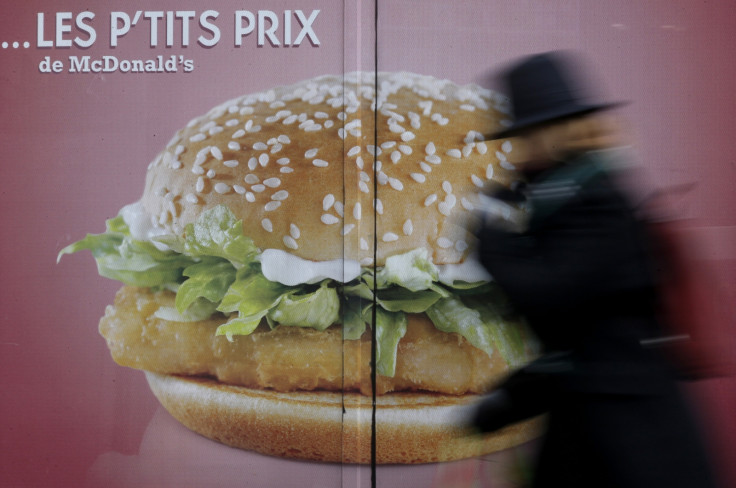 Geneva has emerged as the priciest city to eat in hotels, with a club sandwich costing $30.59 (£19.46, €27.57) and a full-day meal $86.71, according to the latest Club Sandwich Index (CSI) compiled by Hotels.com.
The index ranks global cities based on the average price of a club sandwich in mid- to high-end hotels. In addition to the popular snack, Hotels.com added three more hotel dining items – a burger meal (burger, fries, soda), a cup of coffee and a glass of house red wine – to make the index "a more comprehensive indicator for guests to understand the costs associated with a full day of hotel dining in hotels worldwide".
The average price was calculated based on actual prices, including taxes and other fees, paid by consumers for all four items in more than 840 five-, four- and three-star hotels in 28 cities.
While Switzerland's Geneva was ranked the priciest for both a club sandwich and a full-day hotel dining experience, the Columbian city of Bogota was the best value-for-money destination with an average dining cost of €27.44 (£19.53).
London was ranked the fifth costliest for a full-day meal at an average price of £41.62.
Rio de Janeiro and Mexico City followed Bogota at €31.19 and €29.32, respectively, for affordable dining costs.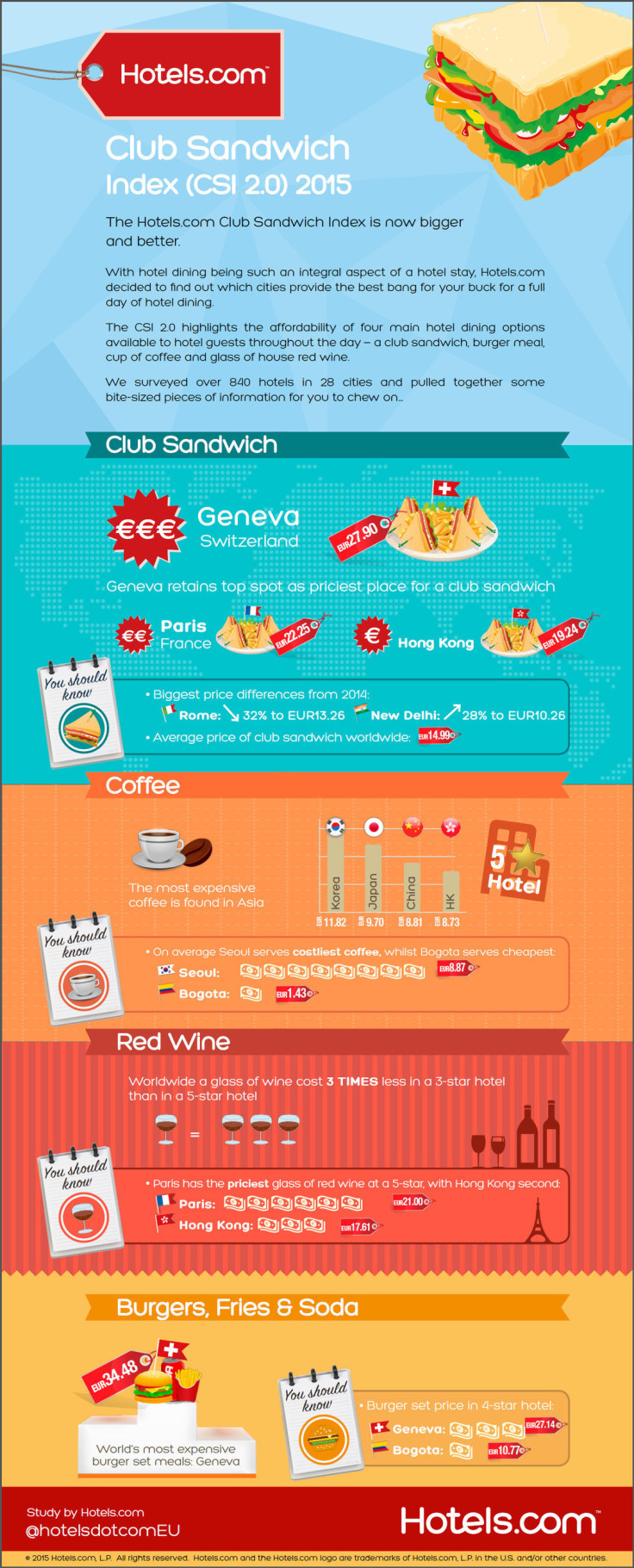 In Asia, Hotel guests in South Korea paid the most to get a cup of coffee, with Seoul having the highest price of €8.87 on average. Paris was the costliest for red wine at €21, higher than the cost of sandwiches in a five-star hotel in 19 other cities, including New York City, Dublin, Sydney and Berlin.
The elevated Club Sandwich Index provides "travellers with an insightful and comprehensive price comparison guide and giving them a more accurate overview of the costs associated with a full day of hotel dining", said Carolina Annand of the Hotels.com.
"The findings from the CSI 2.0... allow travellers to easily locate a hotel that suits their budget - while some may indulge in a burger meal in a hotel in Geneva, other guests may opt to kick back with a glass of house red wine at less than six times the price in Bogota!"
Given below is the full list of 28 cities included on the CSI, ranked by the average prices paid by hotel guests for a full-day meal.
| | | |
| --- | --- | --- |
| Rank | Destination | Cost of a full-day meal |
| 1 | Geneva, Switzerland | $86.71 |
| 2 | Paris | $72.62 |
| 3 | Hong Kong | $71.34 |
| 4 | Oslo | $68.42 |
| 5 | London | $65.45 |
| 6 | Seoul | $65.32 |
| 7 | Stockholm | $61.71 |
| 8 | Japan | $60.79 |
| 9 | Singapore | $60.54 |
| 10 | New York | $59.64 |
| 11 | Beijing | $59.30 |
| 12 | Helsinki | $52.64 |
| 13 | Copenhagen | $52.62 |
| 14 | Sydney | $51.00 |
| 15 | Rome | $48.94 |
| 16 | Amsterdam | $46.99 |
| 17 | Taipei, Taiwan | $46.12 |
| 18 | Dublin | $43.61 |
| 19 | Moscow | $43.06 |
| 20 | New Delhi | $42.55 |
| 21 | Berlin | $41.86 |
| 22 | Toronto | $41.56 |
| 23 | Buenos Aires | $40.28 |
| 24 | Bangkok | $39.53 |
| 25 | Madrid | $38.73 |
| 26 | Rio de Janeiro | $34.19 |
| 27 | Mexico City | $32.13 |
| 28 | Bogota | $30.08 |