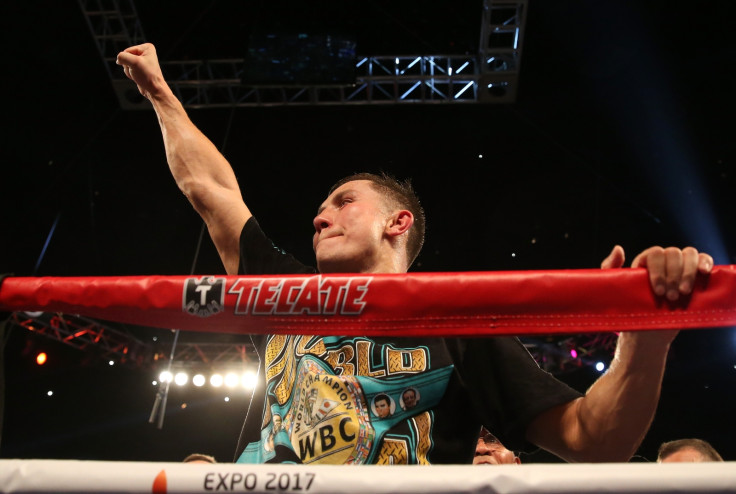 Gennady Golovkin has offered to drop down a weight to take on Floyd Mayweather, Jr but reports suggest the undefeated American has already agreed to fight Andre Berto in his last fight on 12 September.
Mayweather, 38, is one win away from equalling Rocky Marciano's long-standing 49-0-0 record and TMZ Sports reports he has settled on 31-year-old former WBC welterweight champion Berto as his final opponent.
Such a fight would almost certainly prompt an underwhelming response from boxing fans, however, given Berto's struggles against the elite in his division.
Mayweather has had no shortage of fighters clamouring for the right to be his last test in the ring, with Amir Khan and Kell Brook among those to have been ignored thus far.
Knockout artist Golovkin has also thrown his name into the running, and despite being undefeated at middleweight, he is happy to drop down to light-middleweight (154lbs), if Mayweather is willing to move up from his usual welterweight (147lbs) to meet him half way.
"He is a great champion," Golovkin said of Mayweather, speaking to ESPN's SportsNation. "Look at me, I'm not big. My last couple of fights, I'm 158, 159lbs. This is possible for me."
Golovkin, 33, has fought exclusively as a middleweight and boasts a spotless record of 33-0-0.
A showdown between the hard-hitting Kazakh and Mayweather would go some way in following the tone set by Mayweather v Pacquiao in May, where the former banked over €220m from one fight alone.
But a final meeting with Berto in Las Vegas on 12 September lacks such star power. Berto is a two-time world champion but neither reign proved particularly lengthy or significant. He won his WBC title in 2008, defending the belt five times before losing via an unanimous decision to Victor Ortiz in 2008. In 2011 he won the IBF welterweight title from Jan Zaveck but lost it to Robert Guerrero in his first defence a year later.