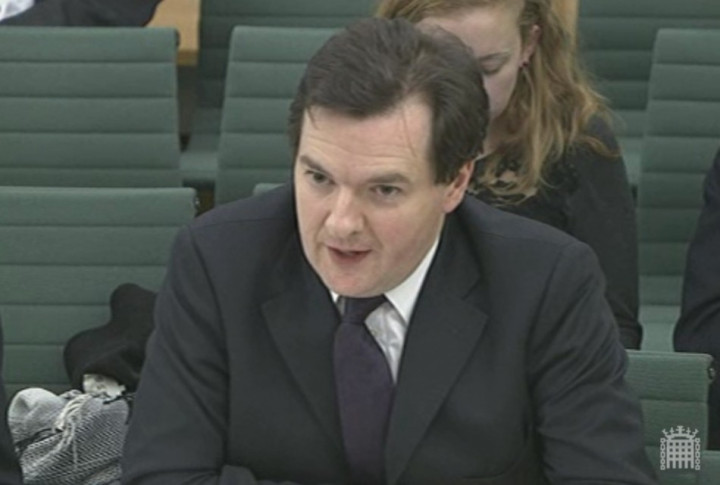 Chancellor George Osborne has told MPs that the biggest test the government faces of its fiscal credibility is its borrowing rates in the bond market, not Britain's AAA credit rating.
He backtracked from his past position that it would be "humiliating" if the government were to lose the top rating and comes after he was forced to admit in his autumn statement that he would miss a key debt target.
"The test we have is one we have to meet every week when we go and try and sell our gilts," Osborne told MPs at a Commons Treasury Select Committee hearing.
He described selling gilts as the "ultimate test" of the government's fiscal policy.
Osborne has long held up the country's AAA credit rating as a justification for his austerity programme in the face of a worsening economy, which slumped to a double-dip recession at the end of 2011 and called into question his government's strict adherence to its fiscal policy.
Critics said the country needed significant government stimulus to help lift the economy out of the doldrums as global crises, such as that in the eurozone, weighed heavily on GDP.
However, Osborne and the government said that spending more money would be irresponsible at a time when they are trying to reduce the deficit in public finances through austerity and tax rises.
"I think it would threaten the UK's fiscal credibility [to spend more]," he told MPs. "I think also the public would realise this would be deferred tax increases or spending cuts, so I don't think it would do anything for confidence."
Britain is on negative outlook among most of the credit rating agencies.
Fitch Ratings, one of the big three, said the chancellor's autumn statement, which included an admission that he would miss his target of bringing debt down as a percentage of GDP by 2015, raised doubts over the credibility of the government's economic programme.
It will review the UK's AAA status in March with the prospect of a downgrade looming large over Osborne's head.
The committee pressed Osborne on what impact he thought a downgrade would have on gilt yields, which have hit all-time lows in recent months, in most part because of the Bank of England's £375bn asset purchase facility, a quantitative easing programme that sees it hoover up gilts from the markets to improve liquidity.
"I'm not going to speculate about future decisions of credit agencies," said Osborne, adding that he would only talk about the present situation in the gilt market.
Meeting debt target means more cuts
During the session Osborne blamed the unexpected worsening of the economic picture, in particular the eurozone's sovereign debt crisis, for hurting the UK economy.
He said that this is why he would miss his debt target and that austerity had to continue until 2018, three years longer than he had originally said it would, and warned that things could have been worse if he had pushed hard to meet this fiscal goal.
"If we had chased the debt target that would have required significant cuts or tax rises over the next four years," he said.
The worsening economy was the reason he had to put a real terms cut on welfare payment rises when he said benefits would only rise by 1 percent, well below inflation.
As well as those who are out of work, many working people will be affected by this cut because those on low incomes receive tax credits.
Osborne defended this decision, saying he took the decision "in the round" and pointed to his raising of the personal tax threshold by more than planned in April 2013 to £9,440.
Families worse of 'inescapable reality'
He said that it is an "inescapable reality" that families have become worse off over the past couple of years, but he shifted the blame away from his own economic policies and onto the wider economic malaise across the globe as well as the painful financial crisis of 2008.
John Mann, a Labour MP on the committee, attacked Osborne by saying he is the first chancellor since Neville Chamberlain to see food banks opening as he oversaw the economy.
Mann asked Osborne if he had a "Christmas message" for those people queuing at food banks to survive.
Osborne said that it is "a hard road, but it leads to a better future".
Mark Carney and the inflation target
The chancellor was also asked about his recent appointment of Mark Carney as Bank of England governor.
Carney, who is currently governor of the Bank of Canada, said in a recent speech that he does not like the inflation target the government sets the Bank of England.
MPs asked Osborne what he thought of the idea of scrapping the inflation target, and whether there has been any discussions in the Treasury on this and other radical new ideas for how monetary policy works in Britain.
"I welcome the fact that we have someone in Mark Carney who is leading international opinion and debate. I think that is a good thing," he said.
On the inflation target Osborne said he thinks it has "served the country well and brought stability".
"There is a debate going on. I'm glad that the future central bank governor of the Bank of England is part of that debate," he said.
"Of course any decisions about the framework are a decision for government which is held accountable by parliament."
He added that there are "no plans to change the framework".
---
Follow @shanecroucher