Georges St-Pierre has revealed that he thinks Conor McGregor is a great fighter and the biggest box office attraction in the combat world today.
St-Pierre is slated to fight for the middleweight title against Michael Bisping later this year after returning from a three-year hiatus from fighting.
However, before the middleweight bout was confirmed, there was talk of "GSP" potentially facing McGregor in a super fight that many fans would have loved to see.
While the fight could still happen in future, with Freddie Roach revealing that the former welterweight champion wanted to face the Irishman for his final UFC fight, St-Pierre was full of praise for McGregor.
"I think he's a great fighter," St-Pierre said, as quoted on RT. "I think he's a really great fighter. He's a very charismatic fighter."
"He's the biggest seller in the sport of all time. He's the biggest draw. But I think now he's going to fight Floyd Mayweather, I've heard, in a boxing match."
St-Pierre believes the boxing super fight between the duo will happen, but like others, sees no chance for the lightweight champion to come out on top.
"I think it will happen," he said and added, "I know Floyd will never fight Conor in a mixed martial arts fight, but Conor could fight Floyd in a boxing match."
"I don't think he's [McGregor's] going to win, I don't think he's going to win at all, but I think he wants to do it and he's going to make a lot of money out of it."
The Canadian's opponent, Bisping, recently predicted what St-Pierre's "master plan" would be in his second run in the UFC – winning the middleweight and welterweight titles before facing McGregor for his lightweight championship. St-Pierre however, did not deny anything.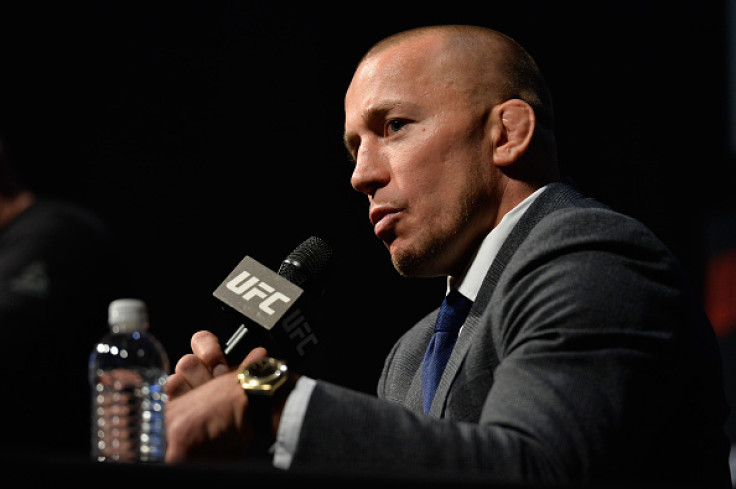 "That's a very ambitious plan," he explained. "I have a plan in the back of my head, but I'm not going to talk about it right now."
"The reason is – I'm not a talker, I'm a doer. A lot of people, they need to talk to promote themselves. Everybody knows who's who here. I'm not a new fighter. They know who I am. My resume talks by itself.
"It's going to depend on what's going to happen and how it's going to happen when I fight Michael Bisping. When this fight will be finished, I'll go to reorient my career. But it could be anything, it's a lot of opportunities," he said.