Michael Bisping believes he has figured out what Georges St-Pierre's plans are in terms of his next few fights.
The UFC middleweight champion is expected to defend his title against the returning St-Pierre sometime in the summer and ever since the announcement in March, many figures have been criticising the bout.
Joe Rogan has said that the title fight has "hijacked the division", Chris Weidman says it "kind of sucks" for the rest of the division while Luke Rockhold claims it is "taking away from the heart of the sport", with many believing that if "GSP" wins, he will not defend the middleweight title.
Bisping agrees with that belief as he does not see the Canadian, who recently claimed he wanted to cement himself as the best of all time, being in the 185 pound division for long.
"Here's what I think GSP's plan is," Bisping said, as quoted on MMAFighting. "He comes back, he fights me, he beats me."
"In the time that takes, Demian Maia beats Jorge Masvidal [at UFC 211] then he fights Tyron Woodley. [St-Pierre] believes - because he said this - that Maia beats Woodley.
"Then, from him fighting me, he fights Maia, relinquishes the 185-pound belt, then he goes for the 170 belt. He fights Maia because stylistically it's a good fight for him because Georges is a great wrestler and he's very, very accomplished at jiu-jitsu. I think he can do what I'm going to do to GSP, stop his takedowns and win the fight on the feet."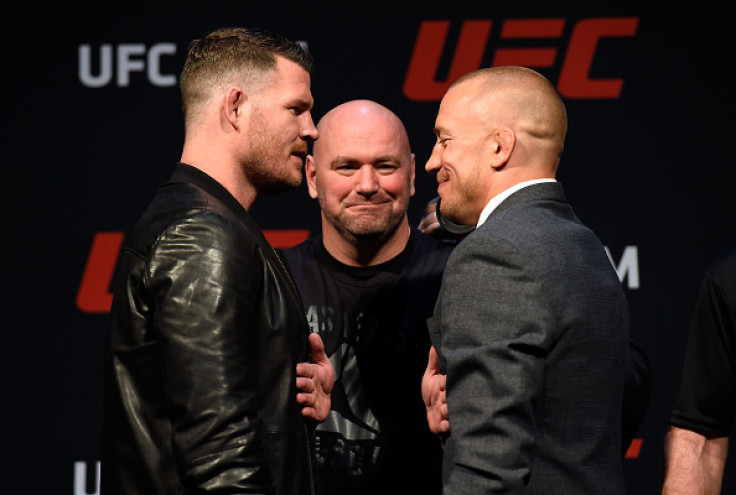 "The Count" then went on to predict that the 35-year-old would target Conor McGregor next — someone who boxing coach Freddie Roach claimed was on St-Pierre's radar.
"Then from there - he's spoke about this - then he's gonna relinquish that and then fight Conor McGregor for the lightweight belt," he added. "That is his master plan, I guarantee it. And if he can pull it off, then he would definitely go down as the greatest mixed martial arts fighter in history."
However, Bisping has plans of his own as he aims to stop St-Pierre's plan from going past stage one.
"You've gotta look at the dollars and cents," the Briton explained. "That, for [the UFC] - because me and Conor are never going to fight. I'm way too big, I'd slap him around silly, let's be honest."
"But GSP [vs McGregor], that's fathomable. That could very, very easily happen, and if I own the company, that's what I want. But I'm gonna rain on the parade. I'm gonna take a big s*** on that bonfire."