Demetrious Johnson believes he will go down as the best champion to ever step foot into the octagon following his record-tying win over Wilson Reis at UFC on Fox 24.
The current number one pound for pound fighter successfully defended his title for the 10th time after submitting Reis with an armbar in the third round, equalling the record of former middleweight champion Anderson Silva in the process.
Johnson is also the longest reigning current champion in the UFC, having been the company's first and only flyweight champion since winning the title in 2012.
With one more title defence to break the record, "Mighty Mouse" has already been eyeing immortality for a while, but when asked if he was in the picture along with Silva and Georges St-Pierre as the "greatest of all time", Johnson went one better.
"You know what? I think the crowd recognises it, you know," Johnson said in his post-fight interview. "GSP, Anderson, they were great champions but I'm the best champion to ever step in this octagon."
"I'm finishing my opponents, there's not another champ out here who can mix it up, wrestle, strike, clinch."
It's a sentiment that UFC president Dana White agrees with, who believes there is a case for Johnson being considered the "greatest of all time".
"He's already the pound-for-pound best fighter in the world, and he strives to be better each time, and he gets better each time, literally destroying people," White said, as quoted on MMAJunkie.
"Yeah, this kid could be considered the G.O.A.T. right now, or to give Anderson Silva the true respect, you wait until he actually breaks the record. It's hard to not call this guy the greatest of all time."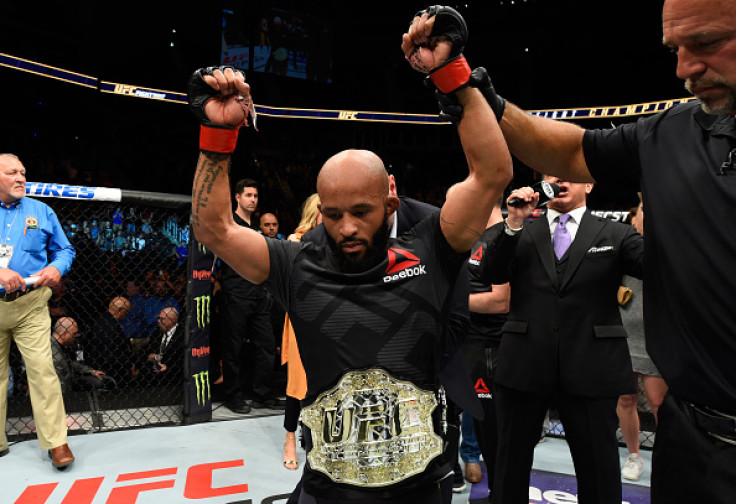 With the 30-year-old retaining yet again, many feel he should move up a division or potentially face bantamweight champion Cody Garbrandt in a super fight — an idea the latter recently revealed he was open to. However, Johnson says it comes down to money.
"I already told Dana White, I need seven figures," he added. "I need a $1 million payday. I'm out here whooping and cleaning up. Every time we step into the octagon, we bring it."