Georgia and Moldova to Sign EU Pact, Says Herman Van Rompuy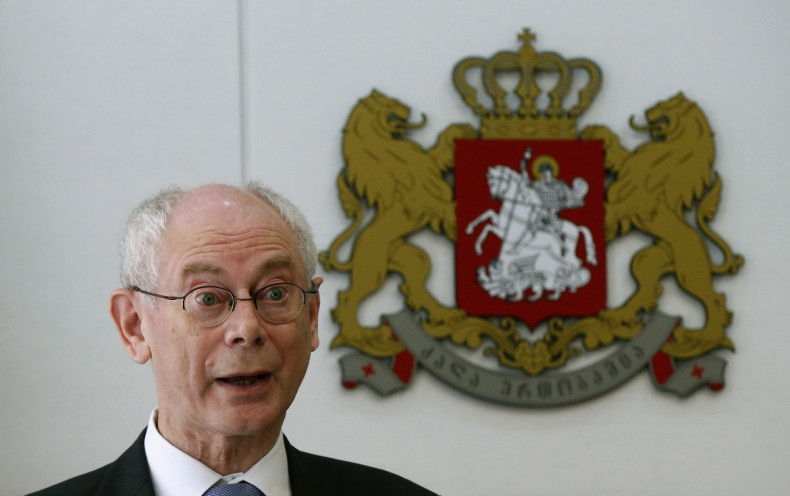 European Council president Herman Van Rompuy has revealed that Georgia and Moldova are to sign EU Association Agreements next month in the face of Russian opposition to former Soviet republics moving closer to the Euro bloc.
The agreement is to be signed on 27 June in Brussels in front of all the EU heads of state of government. It aims to enhance trade and political ties between the signatories.
"I see that there is a lot of pressure to prevent you and others signing those agreements," Van Rompuy told a joint news conference with Georgian Prime Minister Irakly Garibashvili.
"Russia is a neighbour. But good neighbours respect each other's borders," he said.
Georgia was a "free democratic country that should make its own choices" and should resist "security challenges", he said.
Its anti-discrimination legislation had "set the pace", he added.
Garibashvili described the agreement as a milestone.
"Georgia follows its European integration course. It's our people's choice which is based on our shared values," he said.
Georgia and Moldova are two of six former Soviet republics, along with Armenia, Azerbaijan, Belarus and Ukraine, in the contentious EU-Russian shared neighbourhood and are part of the EU's Eastern Partnership scheme.
Nato military chief Gen Philip Breedlove warned that Russia had amassed a sizeable force on the eastern Ukrainian border, which could easily annex the Russian-speaking Transnistria region of Moldova.
Georgia is a Caucasus nation of 4.5 million people which transports valuable Caspian Sea oil and gas and was embroiled in a five-day war with Russia in 2008 over the territories of Abkhazia and South Ossetia.