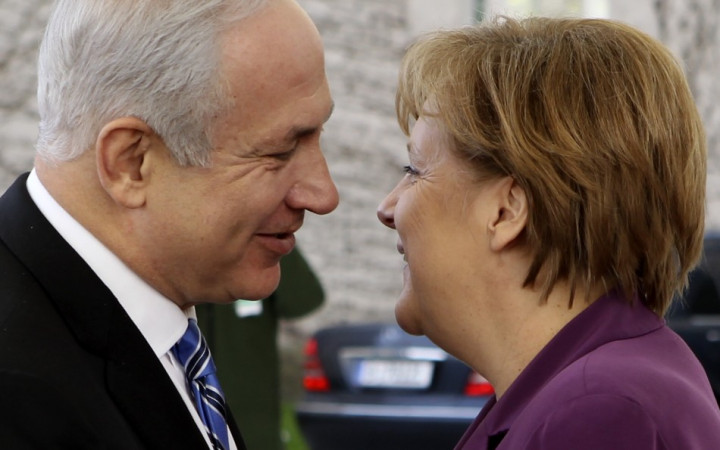 German chancellor Angela Merkel asked Israeli prime minister Benjamin Netanyahu to back off launching a unilateral attack against Iran's nuclear facilities, Haaretz newspaper has claimed.
Haaretz quoted a senior Israeli official saying that Merkel warned Netanyahu during a telephone call to give more time for sanctions and diplomacy before attacking Teheran.
She called after reports that Netanyahu was planning to strike Iran even before the US elections in November.
The claim came in the wake of a fresh flurry of diplomatic efforts to keep Israel in line.
Israel is under international pressure not to launch a strike on Teheran, with the United States leading efforts against it.
The US chairman of the Joint Chiefs of Staff, Gen Martin Dempsey, made it clear that Washington did not want to be accused of jumping on to Tel Aviv's war wagon.
"I don't want to be complicit if they choose to do it," Dempsey told the guardian.
He said unilateral action might weaken a strong international coalition and undermine sanctions against Iran.
"This could be undone if [Iran] was attacked prematurely," he said.
War drums have grown louder in recent months over fears that Israel was preparing for a ground attack on Iran before Christmas. Commentators believe that if Israel attacks first, the US will be forced to back it.
Israeli media reported that a telephone call between the merkel and Netanyahu was "relatively exceptional".
Germany is a strong supporter of the Palestinian cause and has often voiced opposition to illegal Israeli settlements in the West Bank.
German officials declined to comment over the alleged telephone conversion.
Israel's daily Yedioth Ahronoth reported that there had been an "unprecedented" and "angry" exchange between Netanyahu and the US ambassador in Tel Aviv Daniel Shapiro over Iran.