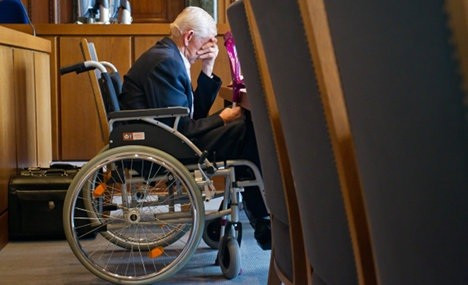 A German pensioner charged with raping his daughter nearly 500 and fathering three children during a 34-year period insists the sex was consensual.
Adolf Bergbauer, 69, admitted to the Nuremberg-Fürth regional court on Monday that he frequently had sex with his daughter, but denies rape and forcing her into sex at knifepoint.
Bergbauer has been charged with 497 counts of rape, with some suspected cases occurred before 1991 now pass the state of limitations and are too old to consider.
He denied the charges that he began raping her daughter at the age of 12 and that consensual sexual contact first took place when she was 17, insisting "she was a willing participant."
"I did not undress myself," added Bergbauer, who is illiterate and worked occasionally as a labourer. He told the court how he and his daughter had consensual sex around twice a week.
The daughter, now 46, said how he raped her when she was 12 and continued to do so for more than three decades. The apparent rapes took place in his room, in a forest and in his car.
When asked whether he forced his daughter into sex at knifepoint, Bergbauer replied: "Never in my life have I done that."
The daughter also accuses Bergbauer of bullying and beating her and forbidding her to leave the house without him.
They were living in the family home along with the woman's mother and siblings in Willmersbach, a village near Nuremberg.
Of the three children who the daughter gave birth to, one died as a baby, another died recently and one survived but is handicapped.
Authorities only uncovered the case after the daughter was convicted of blackmailing the wife of a doctor who she blamed for the disability of one of her sons. She was signed a parole officer who eventually gained her trust and eventually her story was revealed.
The daughter's lawyer, Andrea Kuehne, said her client was "shocked and furious" at Bergbauer's statement that the sex was consensual.
"My client would never have pressed charges if she had felt that way," said the lawyer.
The case is expected to last six days. If convicted, Bergbauer faces up to 15 years in jail.
The case has drawn similarities to that of Joseph Fritzl, the Austrian man who imprisoned and repeatedly raped his daughter in a hidden cellar for more than two decades, fathering seven children with her.