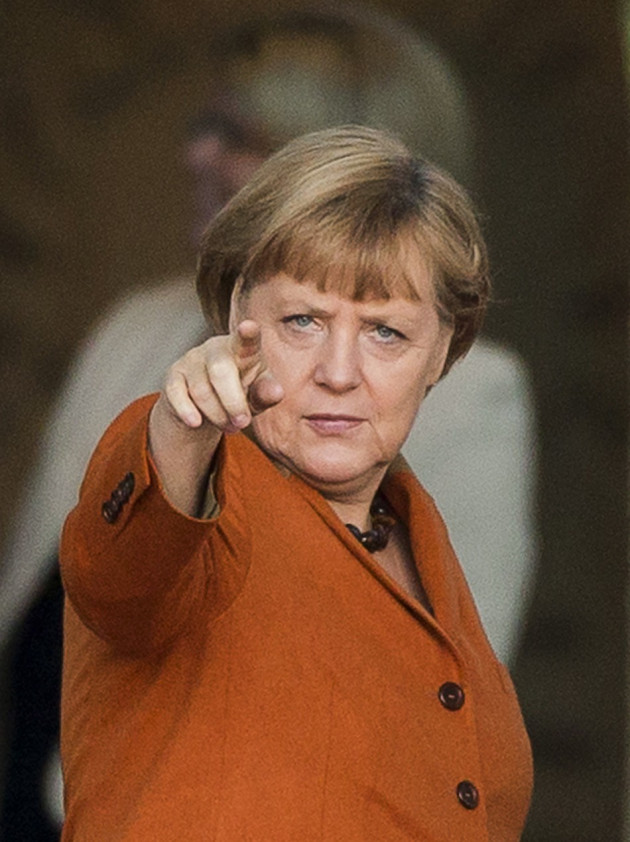 European leaders could be preparing to take a bundled bailout for three separate countries to their parliaments for approval before the end of the year as Angela Merkel pushes for rescue co-ordination amid popular and political pressure.
International calls for a comprehensive response to the Eurozone debt crisis increased this week after the International Monetary Fund asked that countries such as Spain and Greece should be given more time to tackle their stubborn deficits in order to ensure they can also create economic growth.
Investors, however, are showing signs of impatience with the seemingly endless rounds of delays, and marking up the yields on Spanish and Italian debt while putting selling pressure on the single currency.
Ratings agencies, as well, have gotten in on the act, cutting the debt grades for Spain and Cyprus this week as economic prospects around the region darken and debt levels continue to rise.
"The German government is said to prefer bundling together all requests to minimize a potential Bundestag backlash," Societe Generale's euro area economist Michel Martinez wrote recently. "Several pieces of news (recently) reinforced our view that any formal request and decision on Spain, Greece, Cyprus and Portugal would not be made before the Eurogroup meeting mid-November."
The collective momentum for and end game to the crisis which has plagued the Eurozone for at least three years could be coming to head as leaders prepare to gather next week in Brussels for yet another "make-or-break" summit.
Make-or-break
This time, however, it might actually be just that.
Spain's Economy Minister, Luis de Guindos, told reporters Friday in Tokyo that his country is not being pushed to seek formal financial assistance from its European Union partners even as investors and analyst line-up to question how long the debt-stricken nation can delay the inevitable request.
Instead, he hinted that European Commission forecasts on growth, planned for release in November, could be the critical catalyst if Spain were to need a revision of its budget deficit targets.
Spain says it needs around €40bn in previously arranged bank rescue funds and that its €65bn in austerity measures will reduce its deficit to 7.4 percent of GDP. However, with record high unemployment, collapsing property prices and persistent recession, few expect Spain to avoid seeking an aid package that could be worth as much as €300bn.
At the same time, Greece is seeking a two-year extension to the timetable of its current bailout and an extra €12bn to plug the financing gab the extra years would create. Meanwhile, Cyprus is negotiating a sovereign and bank rescue package worth around €12bn.
The apparent delay in Spain - alongside what seems to be an extended timetable in the assessment of Greece's deficit reduction efforts by the so-called Troika of lenders representing the EU, the IMF and the European Central Bank - gives further evidence to the theory that Germany is pushing to co-ordinate the timing of bailouts for Spain and Cyprus and revised terms of the previous rescues in Greece.
Reuters first reported last week that senior Eurozone officials were concerned that Germany was applying pressure on Spain to delay its bailout request in order to avoid Chancellor Angela Merkel from having to bring three successive aid packages to the Bundestag before the end of the year.
Political analysts say Merkel and her team were rattled by news that former German Finance Minister Peer Steinbrueck will lead the challenge to unseat her in next year's general election. Steinbrueck's selection as leader immediately narrowed the gap between his Social Democratic party and Merkel's ruling Christian Democrats by three percentage points, according the polling group Forsa, and to its highest overall rating in at least six years.
German discontent
Merkel's standing at home was also diminished by the hostile - and at times repellent - reception the Chancellor received during her first visit to Greece since the sovereign debt crisis began. German media made much of the chaotic scenes around Athens, which included some demonstrators clad in Nazi paraphernalia, and criticised her vow to keep Greece within the single currency. "Germany does not deserve this" shouted a headline the following day in Bild, Germany's most-read newspaper.
Her parliamentary task in obtaining approval for further European rescue efforts was also made more difficult last month with the ruling from the nation's Constitutional Court on Germany's participation in the region's permanent bailout fund. It effectively capped Germany's financial commitment at €190bn but allowed room for more funding only after a full, detailed consultation with lawmakers.
Market pressure for a solution has, at least for the moment, abated, in large part because of a pledge from the ECB to offer unlimited support in the bond market to help stabilize borrowing costs for debt-laden Eurozone members - provided they apply for formal EU assistance. To date, the ECB's verbal intervention has reduced Spain's benchmark 10 year yields by at least 1.75 percent.
But the time bought by the so-called Draghi Effect is not infinite, and with growth slowing all over the world - and unemployment rising quickly inside the Eurozone - its impact may soon fade if not buttressed by explicit market action.
"We think that if Spain continues to delay the decision, market anxiety will grow. Absent any other positive news, we would expect risk sentiment to start deteriorating," wrote Barclays strategists in a research note". "The pace is tricky to anticipate, but we think it would be gradual initially, accelerating as the market perceived that only more stress might push governments to agree
European leaders have the chance to get ahead of that concern next week in Brussels and perhaps table an agreement that could be put in place sometime in November - when the US Presidential elections have concluded and voting has wrapped up in regional polling in Spain.
Hurdles ahead
Several sticking points remain, however, to both the leaders reaching a decision and the parliaments approving it.
One of the biggest is the issue of so-called "legacy debts" in the Spanish banking system. Europe's leaders agreed in June that the funds committed to the European Stability Mechanism (ESM) can't be used to deal with previous debt burdens, suggesting Spain's banking sector woes will be the responsibility of its government come what may.
Spain's regional elections are also a major obstacle, particularly in Catalonia, the country's richest and most populous region, which goes to the polls on 25 November amid a swell of nationalist pride that could see President Artur Mas swept back into power with a mandate to call a referendum on Catalan independence. Spain's parliament voted to block such a vote this week but Mas has vowed to let Catalans voice their preference for Barcelona's future.
Meanwhile Moody's Investors Service has yet to finalize the review of its Baa3 rating. A cut into junk status could precipitate a widespread sale of billions of euros of Spanish government bonds by funds which are prevented from holding sub-investment grade debt, sparking a sharp rise in borrowing costs.
Greece's coalition government, led by Prime Minister Antonis Samaras, could also collapse if public opinion turns against the planned €12bn in new austerity measures. Opinion polls taken last month suggest Syriza, the anti-European party led by Alexis Tsipras, leads all political parties with 27.7 percent support.