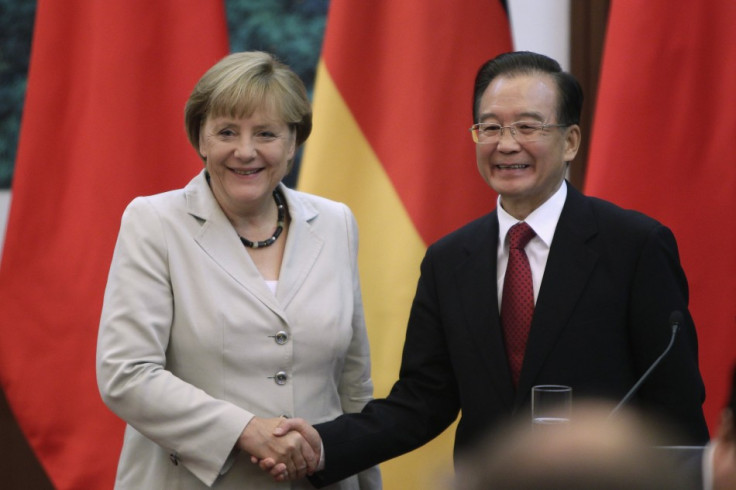 China and Germany have pledged stronger economic and trade cooperation to help Europe come out of the financial crisis and improve relations between the two nations.
German Chancellor Angela Merkel and her Chinese counterpart Wen Jiabao signed a series of trade deals in the aviation, energy and communication sectors during Merkel's two-day visit to Beijing.
At a joint press conference, Chinese Premier Wen Jiabao said the country would continue to invest in European government debt under full risk evaluation.
Wen noted that achieving the right balance between fiscal tightening and economic stimulus is the key to solving the economic crisis. He also promised that China would continue to purchase European bonds to help the continent to emerge from the crisis.
Merkel said progress was being made to come out of the crisis but countries need to have the political will to encourage confidence in the Euro.
The two countries, badly affected by the Eurozone crisis, have promised stronger economic ties. The two countries are also reported to have signed agreements in the automobile, health and maritime sectors.
As part of the deal, China will buy 50 Airbus A380 jetliners from EADS, the parent company of Airbus at a price of $3.5bn (£189.8bn).
Xinhua reported that the aircraft manufacturer signed the agreement with the leasing arm of Industrial and Commercial Bank of China Ltd.
Separately, German firms have unveiled plans to invest up to $3.2bn (£189.5bn) in China.
Airbus plans to build an assembly line in the city of Tianjin with an investment valued at $1.6bn (£63.5bn).
The Airbus deal is seen as particularly significant since it is the first major agreement between the two nations following a dispute over the Emission Trading Scheme (ETS) which charges airlines for the carbon they emit.
China and other major countries like the US had opposed the ETS because the scheme charged airlines for the whole journey and not just in Europe. In March, Louis Gallois, the chief executive of EADS, had alleged that China had blocked aircraft purchases made by the company.
German automobile maker Volkswagen will also invest $290m (£183m) to manufacture auto parts in the same city.
A $1.3bn (£63.3bn) pact was also signed between Chinese telecommunication equipment maker ZTE Corp and Germany's IBT Holdings GmbH.
In 2011 alone, German investment in China stood at €260m (£206m) while the latter invested €1.2bn (£79.5bn) in Germany.
Merkel was accompanied by seven cabinet ministers and a number of industry executives on her second visit to the Communist nation.