Germany shocked as far-right AfD party chair Frauke Petry quits just hours after being elected
Party has just managed to enter German Bundestag for the first time.
The AfD (Alternative for Germany) have been left stunned after their co-chairperson, Frauke Petry announced she was quitting the party. The news came just hours after the far-right group managed to become the third-largest party in the German Bundestag.
AfD colleagues were left shocked by the development which has come after months of political-infighting among the party.
Speaking to reporters in Berlin, Petry said: "I decided after careful reflection that I will not sit with the (AfD) parliamentary group."
After reading a short statement, Petry left the press conference with AfD co-chair Jörg Meuthen who apologised and admitted he had "no knowledge" of Petry's "bombshell" decision.
The AfD started life in 2013 as an anti-Euro party but only picked up traction in 2015 with their prominent anti-immigration stance in the wake of Angela Merkel's policy to allow more than 1m migrants into the country.
"We should be open about the fact there there is conflict regarding content within the AfD, we should not pretend it doesn't exist," Petry told reporters. She added that the party had become "anarchical" in the weeks leading up to the election and "cannot offer the voter a credible platform for government".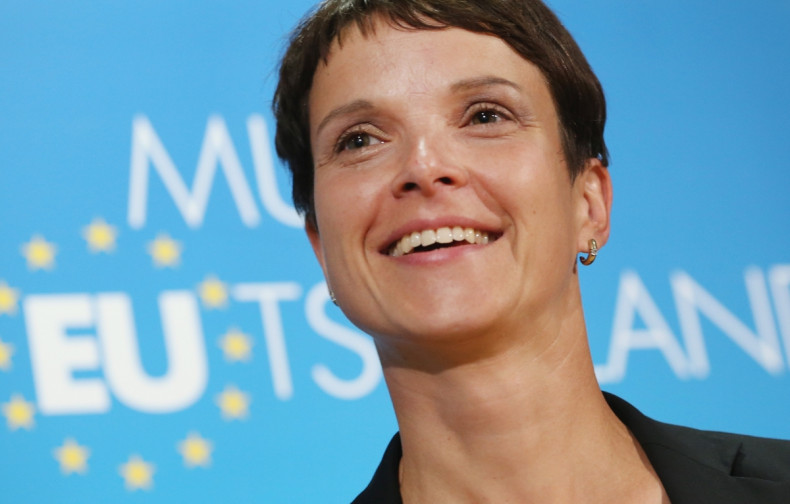 She had also criticised the party's joint party leader Alexander Gauland after he had announced that he would "go after" Merkel.
Gauland dismissed the comments as the reason for her exit.
Speaking after her shock departure, Petry confirmed that she intended to take up her seat inside the Bundestag and remain and "active politician" but as in independent MP.
The party is the first far-right group to enter the German Bundestag since the Nazi's after it won almost 13% of the vote.
Merkel's CDU comfortably won the largest share of the votes but at around 33%, it was the lowest percentage for the party since she came to power in 2005.
The main opposition group, the SPD, only picked up around 20% of the vote, its worst-ever result in the modern German era.