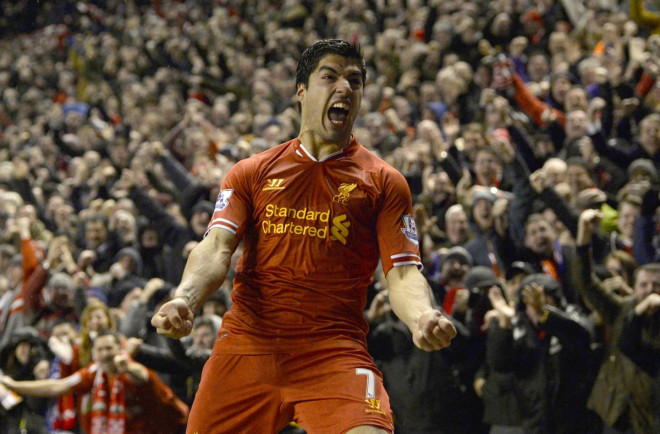 Steven Gerrard has called into question whether Cristiano Ronaldo is the best player in the world, claiming Luis Suarez is the equal of the Balon D'Or winner.
"Messi and Cristiano are world-class players but, outside of that, [Zlatan] Ibrahimovic and Luis Suarez are pushing those two really close," Gerrard told Sky Sports after Liverpool's victory over Southampton.
Gerrard even defined the Uruguayan as a "winner, a ruthless player and the goal hunter".
Regarding Liverpool's Premier League chances, Gerrard said that "it is important to stay calm" and should just focus on "winning every game we can.
"Manchester City and Chelsea are still favourites because they have experience of going to win the title in recent years."
Liverpool are still in the fight for the Premier League title and Suarez is the top scorer in the competition, having emerged as one of the greatest players in the world.
The 27-year-old scored his 24th goal of the season against Southampton on Saturday, playing a key role in the Reds' 3-0 win. In addition to opening the scoring, Suarez assisted the second goal, scored by Raheem Sterling, and caused the penalty that led to the third goal, scored by Steven Gerrard.
A year ago, Liverpool boss Brendan Rodgers said Suarez would reach the same level as Lionel Messi and Cristiano Ronaldo, saying: "I always like to talk about the team but I think you have to hold up Luis as one of the best strikers in the world. Incredible performance. I think he is the happiest he has been here.
"The modern-day world-class operators –the Ronaldos and Messis– it is all about the numbers and what they produce and it is not any more one and two, or two and three [goals].
"I think if you look at Messi and Ronaldo they have been out on their own for a couple of years. Luis is only 26 and I think he will make improvements to his game over the coming years."