Twenty miles from its nearest neighbour and sometimes referred to as "The Edge of the World", the island of Foula is home to huge colonies of seabirds, hundreds of Shetland ponies and about 30 people, making it one of Britain's most remote inhabited islands. Bleak but dramatically beautiful, Foula is just three-and-a-half miles long by two-and-a half-miles wide, with rugged peaks that suddenly end at sheer cliffs 1,200 feet above the wild Atlantic waves.
Getty Images photographer Jeff J Mitchell visited the most westerly of the Shetland islands to capture its majestic landscapes and meet its hardy inhabitants.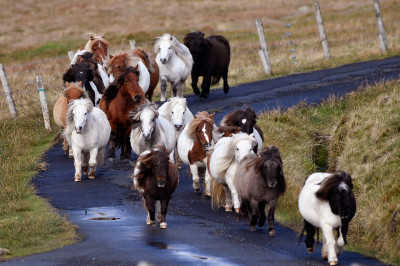 Inhabited since Neolithic times, Foula was conquered by Norsemen in around 800AD, and they ruled the island until the 15th century. Their influence lives on in place names such as Norderhus, Krugali, and Guttren. The name of the island itself is Old Norse for "Bird Island". Foula was the one of the last places in the Shetlands where the old Norn language, a relic of Norse times, was spoken.
Foula is so isolated that it can take a very long time for changes to come – if they even come at all. The rest of Britain started using the Gregorian calendar in 1752, but Foula still uses the Julian calendar. Christmas is celebrated on 6 January, with New Year's Day on the 13th.
Most islanders are crofters, making their living from farming sheep or breeding Shetland ponies. However, the island has so few inhabitants that most people have several jobs, helping out where they can with a bit of teaching or serving as guides for visiting birdwatchers. There's not much else to do – the island doesn't have a pub or any shops apart from a tiny post office. The primary school currently has one pupil. Older children are sent off to high school on the mainland, and not many return to make their homes on Foula.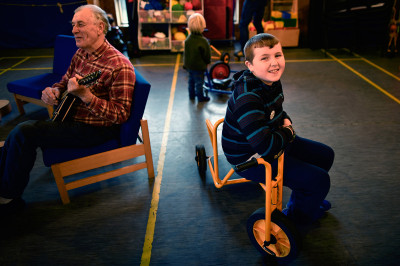 Foula is designated as a Special Protection Area (SPA) for birds, a National Scenic Area and a Site of Special Scientific Interest (SSSI) for its vegetation, geology and birds. The cliffs teem with puffins, guillemots, Arctic terns and the world's largest colony of great skuas (bonxies). Grey and common seals can usually be seen basking around the island's jetty, and harbour porpoises regularly follow the ferry.
A ferry makes the two-and-a-half hour crossing from the main Shetland island to Foula three times a week – weather permitting – and there's a chartered air service up to four times a week, with an eight-seater plane bringing increasing numbers of tourists. It's hard to imagine a better place to get away from it all.