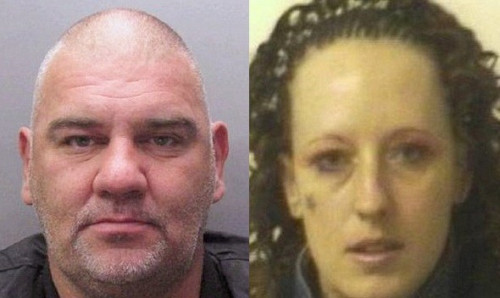 A giant named "Stretch" goes on trial today (Tuesday) accused of helping a female serial killer hide the bodies of her victims, as well as two counts of attempted murder.
Gary Stretch, 47, who measures 7'3" in height, allegedly helped girlfriend Joanna Dennehy, 30, hide the bodies of three murdered men in remote countryside around Peterborough
One of victims was Stretch's landlord, who was trying to evict him.
Last year, Dennehy surprised the Old Bailey court in London by unexpectedly changing her plea to guilty at a hearing.
She admitted killing landlord Kevin Lee, 48, Lukasz Slaboszewski, 31 and John Chapman, 56. All had suffered multiple stab wounds.
Their remains were found last April. Landlord Lee's body was found in a ditch near Peterborough, while the other victims' bodies were found at nearby locations.
Stretch, also known as Richards, is additionally accused of the attempted murders of two men, Robin Bereza and John Rogers, in Hereford.
Dennehy, who sports a green star tattoo beneath her right eye, previously pleaded guilty to these attempted murders. She is being held under the Mental Health Act.
The house in which Stretch and Dennehy lived together prior to the killings was boarded up in the wake of their arrests. Neighbours recalled the pair had caused "problems" during their time there.
A householder in the village of Orton Goldhay said: "We had so many problems with that house. The noise, the mess, we have had stuff thrown at our dog."
Also standing trial at Cambridge Crown Court with Stretch are Leslie Layton, 37, of Orton Goldhay, and Robert Moore, 55.
Layton denies perverting the course of justice and preventing the lawful and decent burial of Lee and Chapman. Moore pleaded not guilty to two counts of assisting an offender.