Spain Condemns 'British Armada' as HMS Westminster Arrives in Gibraltar [VIDEO]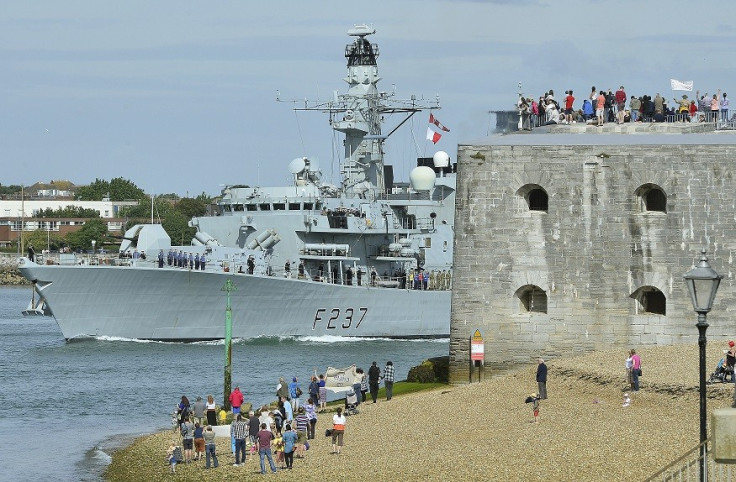 Spain has decried Britain for sending an 'armada' of ships to Gibraltar as a Royal Navy warship docked in the Mediterranean territory.
HMS Westminster is scheduled to spend three days in Gibraltar, and will join in exercises with the light aircraft carrier HMS Illustrious, which is docked in a Spanish town close by.
Westminster, a type 23 frigate, and Illustrious will join a fleet of other vessels in an international training exercise called Cougar 13 later this week.
Britain played down the significance of Westminster's arrival, amid the continuing diplomatic dispute between London and Madrid centring on Gibraltar's construction of an artificial fishing reef.
The Navy said Westminster's deployment was a "long-planned annual deployment," unrelated to the diplomatic spat. Meanwhile Gibraltar's chief minister Fabian Picardo said: "This is an exercise that has been planned for some time now.
"It involves working with partners, including Spain, so I wouldn't try to read much more in to it than is obvious from the fact this was planned quite long before the whole issue we are having to deal with now, raised its head."
Spanish flotilla repelled
HMS Westminster arrived hours after a flotilla of Spanish fishing boats entered Gibraltarian waters and were corralled by a fleet of Gibraltarian vessels.
It is reported that around 40 Spanish boats breached British waters, and the incident lasted about an hour.
Ch Insp Cathal Yeats said: "At around 9am, Spanish fishing boats and pleasure craft converged in the area of the western anchorage.
"We had our own police cordon with Royal Navy and other assets and we corralled them in to the area of the south mole. They tried to breach the cordon several times but they were not successful."
'£1.3m in lost revenues'
Spain is angry about the construction of the reef in waters off Gibraltar, which it claims has disrupted fishing and cost fishermen £1.3m in lost revenues.
The dispute over fishing has seen Spain set up tough controls at the border with Gibraltar, which caused long delays of up to five hours at checkpoints.
According to Gibraltar, the dumping of blocks in British waters is to create an artificial reef designed to boost stocks of marine life.
However the Spanish government claims they are intended to halt Spanish boats from fishing there by damaging nets.
© Copyright IBTimes 2023. All rights reserved.