A study published in Nature presents a 'global roadmap' for prioritising road building across the planet and balancing development with nature conservation.
"Roads often open a Pandora's Box of environmental problems," said Professor William Laurance of James Cook University in Australia, the study's lead author. "But we also need roads for our societies and economies, so the challenge is to decide where to put new roads - and where to avoid them."
By looking at two components, an 'environmental-values' layer and a 'road-benefits' layer that estimates the potential for increased agriculture production via new or improved roads, the team has identified areas with benefits from roads and areas where they should be avoided, according to the University of Cambridge.
There are also places where costs and benefits are sizable.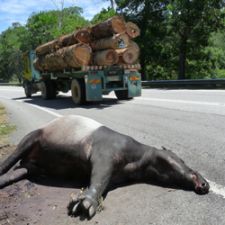 The benefits were measured for agriculture because global food demand is expected to double by mid-century and new or improved roads are vital for farmers.
The areas that would benefit most from new roads are those that have largely converted to agriculture but are currently relatively low-yielding but not too distant from urban markets. All continents have such areas, the team says, where agriculture can benefit from widening road network without harming environment.
However, there are carbon rich ecosystems with key wildlife habitats where roads are a no-go zone, like in the Amazon, Southeast Asia, and Madagascar. The environmental costs of road expansion are massive here.
The team spent nearly two years to map out the world's most important ecosystems and biodiversity. They are hoping the findings will be adopted by governments and international funding agencies.