A United Nations report published this week predicts that by the year 2050 more than six billion people will live in cities - almost double today's total of 3.5 billion. In 1900 just 220 million people lived in urban areas.
Today almost half of all urban-dwellers live in settlements of fewer than 500,000 inhabitants but the number of "mega-cities" - urban conurbations with a population of 10 million plus - is expected to keep rising. In 1990 there were only ten mega-cities but today there are 28, 16 of them in Asia.
Currently the world's most populous city is Tokyo, with 38 million, and Tokyo will probably still be the largest city on earth in 2050. However close behind will be a number of rapidly-growing urban areas including Delhi, Mexico City and Sao Paulo.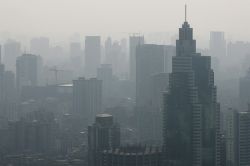 Over a third of all the new city-dwellers will be in just three countries - China, India and Nigeria. Between 2014 and 2015 there will be an additional 404 million city-dwellers in India, 292 million in China and 212 million in Nigeria.
Meanwhile the rural population is expected to keep rising until around 2020 when it begins to decrease. Africa and Asia are still home to some 90% of the world's rural population despite rapid urbanisation.
Today just over half the world's population live in cities. By 2050 that total will rise to around 66% - two thirds of all people on earth. The UN report, "World Urbanization Prospects", says these changes will present major challenges, including transport, housing, energy and employment.
John Wilmoth, Director of the Population Division in the UN's Department of Economic and Social Affairs, says: "Managing urban areas has become one of the most important development challenges of the 21st century. Our success or failure in building sustainable cities will be a major factor in the success of the post-2015 UN development agenda."
Fact box: the ten largest cities in 2014 by population
Tokyo (Japan): 38 million
Delhi (India): 25 million
Shanghai (China): 23 million
Mexico City (Mexico), Mumbai (India) and São Paulo (Brazil): 21 million
Osaka (Japan): 20 million
Beijing: 19 million
New York-Newark (USA) and Cairo (Egypt): 18.5 million
(Source: United Nations)