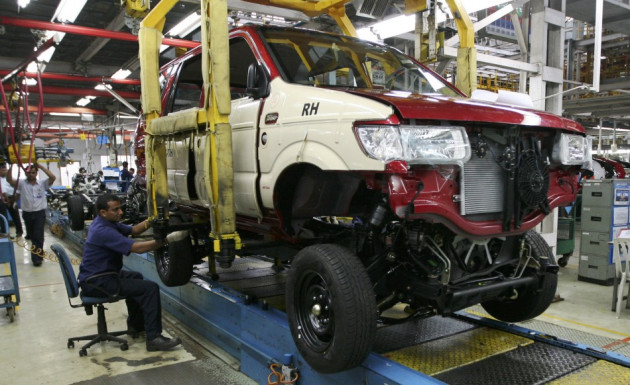 General Motors has said it was forced to dismiss several employees in the US and in India after an internal probe into the recall of a sport-utility-vehicle, built and sold exclusively in India, revealed "violations of company policy".
Automotive News reported that Sam Winegarden, GM's vice-president for global engine engineering, was sacked along with around 10 other GM powertrain employees in the US and India.
GM, however, did not specify the number involved, nor did it confirm Winegarden's departure.
The action follows GM's recall of 114,000 Chevrolet Tavera utility vehicles in India, to deal with emissions and specification problems. GM told Indian authorities that its engineers rigged emission tests to meet government standards.
The Indian government has initiated an investigation into GM's Indian unit.
The government is reviewing its systems and investigating GM to see if there were systemic errors, willful negligence or other wrongdoing, said Ambuj Sharma, joint secretary at India's ministry of heavy industry.
The investigation report is due in August and GM faces the possibility of fines and an enforced halt in production, Sharma added.
GM's stock price finished 1.1% lower at $36.67 (£23.84, €27.62) on Friday [26 July] in New York. The stock has gained over 30% so far this year.
"We take these matters very seriously and hold our leaders and employees to high standards," media reports quoted Greg Martin, a GM spokesman at the company's Detroit headquarters, as saying. "When those standards are not met, we will take the appropriate action to hold employees accountable."
Earlier this week, GM said it was recalling Tavera vehicles sold between 2005 and 2013 owing to "an emissions issue involving the Tavera BS3 and an issue with the Tavera BS4 meeting certain specifications".
"The issues are not safety-related," the statement added.
GM India has stopped producing and selling both models and will resume production after obtaining regulatory approval.
GM will repair the vehicles free of charge at any of its 280 dealerships across India. Both Tavera models are diesel-powered, with a starting price of 689,553 rupees (£7,583, €8,786, $11,665).
GM's recall is one of the biggest yet seen in India. Last August, rival automaker Ford recalled over 100,000 vehicles in India, to check for potentially defective parts that could cause breakdowns or fires.