Gold Traders Face Sombre Indian Festive Buying Season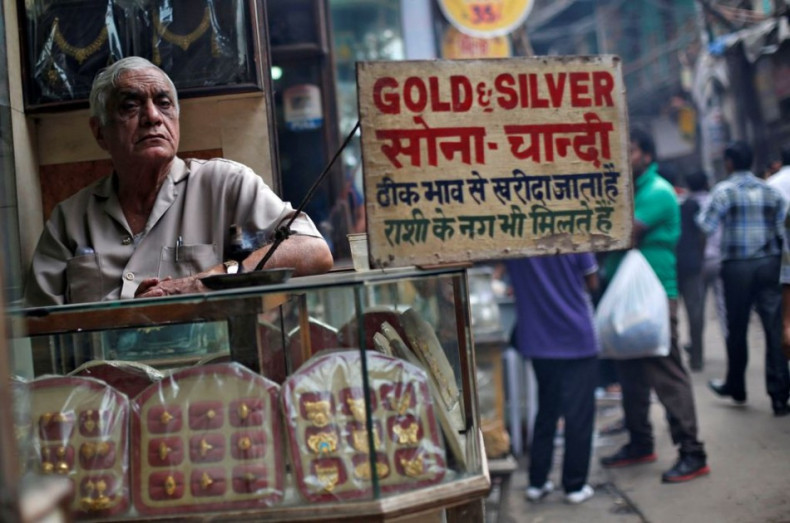 Sluggish economic growth, a weak currency and import restrictions could limit the supply of gold in India, potentially dampening festive buying in the world's largest gold market.
India will celebrate the Hindu festivals of Dussehra in the third week of October and Diwali in the first week of November, a period when gold sales reaches its peak.
The traditional wedding season in the autumn months is also known to boost gold sales.
The World Gold Council estimates there are 162 'auspicious' days this calendar year, a bulk of which fall in the October-December quarter. As such, gold sales is expected to rebound this quarter, Somasundaram P R, the World Gold Council's (WGC) managing director for India told IBTimes UK.
However, restrictions on gold imports, and three upward revisions to the import duties on gold could negatively impact the supply and sale of gold in India, analysts said.
The September quarter was beset with policy-related issues. Gold imports had stalled for two months as the government and banks could not agree on how the new import rules should work. Earlier, India's decision to curb gold imports, as part of moves to narrow its growing trade deficit, resulted in a 90% drop in the import of the precious metal in August.
"The demand in India and other Asian countries is unprecedented," Scott Carter, the chief executive officer of US-based Lear Capital told CNBC.
"We would expect the same to occur this season. The only caveat is that India has made it expensive, and difficult, to import gold. It's unknown what this impact will have on gold sales in India this season," Carter added.
The "Indian wedding season demand will support the trade but it is likely to be much more subdued in terms of price impact this year," Victor Thianpriya, Commodity Strategist at ANZ Research in Singapore, told CNBC.
"Import restrictions remain in place and dealers are likely to source more from the scrap market," Thianpriya added.
The WGC expects to gain a clearer picture of quarterly sales trends by end-November. However, traders can "trust gold to find its way" into Indian households, Somasundaram said
"Consumers in India are not concerned [about government policies]. I don't see crowds melting away," Somasundaram added.
Indians believe that investing in gold is more lucrative than investing in real estate or in financial products, hardly understood by small towns in the south Asian country.
Historically, India has been the largest consumer of gold and it is forced to import the yellow metal because it hardly produces any.
India's wider trade gap in April was due to a surge in gold and silver imports that month. The gold rush widened India's trade deficit by 72% to $17.8bn.