Gold prices are set to drop further next week as the prospects of upbeat data from the US, where economic activity has noticeably picked up, are expected to dent the precious metal's safe-haven status.
Prices will also take their cues from the US Federal Reserve's FOMC meeting, which could provide hints about the timing of likely interest-rate hikes, and from geopolitical tensions in the Middle East.
As many as 14 of 22 analysts polled in a Kitco Gold Survey said they expected gold prices to trade lower next week, while four predicted that prices will rise and five forecast prices to trade sideways.
Robin Bhar, metals analyst with Societe Generale told Kitco: "Next week is quite significant because there is a lot of US-centric data and news flow, and we have the FOMC meeting [on 29-30 July]..."
"The macro side of things will be upper most (in the minds of traders), but we shouldn't forget that geopolitics has emerged in a big way in the last few months. That so far isn't having a significant impact on gold. Yes, it's supportive, but is not really driving the price significantly higher yet.
"Obviously, things could change very quickly. So the market will be keeping an eye on the geopolitical side of things."
Daniel Pavilonis, senior commodity broker with RJO Futures said: "Even if there is a lot of geopolitical risk right now...it seems like stocks are still making new all-time highs (as of 24 July). I think that is going to continue to put pressure on gold and silver."
China-Demand Slumps
Commerzbank Corporates & Markets said in a note: "The figures for Chinese gold imports from Hong Kong released by the Census and Statistics Department of the Hong Kong government [on 24 July] were weak, as we had anticipated, and revealed that only 40.5 tons of gold were imported on a net basis from the former British crown colony to the People's Republic in June - 23% down on the previous month and 61% down on the year-on-year figure. Net imports have now declined for the fourth consecutive month and find themselves at their lowest level for 17 months.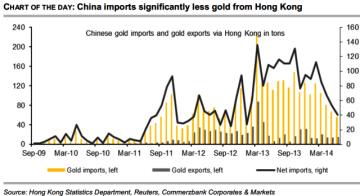 "Unless the import dynamism picks up again in the second half of the year, China will probably import less than 800 tons of gold from Hong Kong in the year as a whole. Following last year's massive slide in the price of gold, net imports in 2013 had climbed to a record high of 1,158 tonnes.
That said, there is still no information about how much gold China has imported via the free trade zone that was established a few months ago in Shanghai, meaning that the data from Hong Kong may not paint a full picture of gold demand."
"Nonetheless, the World Gold Council's forecasts of Chinese gold demand, which were issued at the beginning of the year and envisaged demand being on a similar scale in 2014 as it was in 2013, meanwhile appear ambitious. In our opinion, the weak gold demand figures to come out of Asia - not only China - of late preclude any rise in gold prices. Gold fell to below $1,290 per troy ounce [on 24 July], a five-week low," Commerzbank added.
Gold Ends Lower
US gold futures for delivery in August finished $12.50 higher at $1,303.30 an ounce on 25 July.
But prices are down $6.10 an ounce for the week.
Spot gold rose 0.7% to 1,302 an ounce on 25 July.