Neo-Nazi Golden Dawn MPs Caught in Greek Parliament Armed with Guns
Two MPs turned away days after tighter security measures agreed for parliament building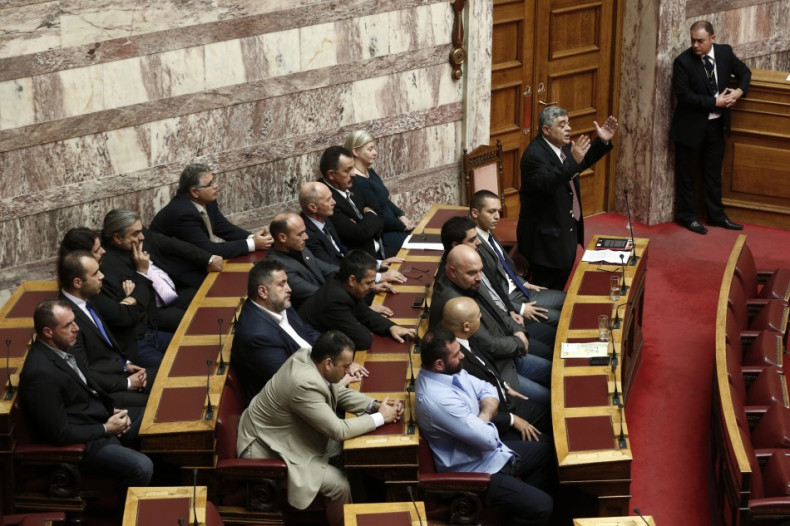 Members of the neo-Nazi Golden Dawn party attempted to enter the Greek parliament armed with guns but were stopped by a metal detector and asked to leave.
Capital news website said that two unnamed MPs belonging to the far-right party were found to be armed. It added that a proposal for stricter rules over carrying weapons inside the parliament building were approved this week on the initiative of Speaker Vangelis Meimarakis.
In another development, some Greek news sites reported that Golden Dawn planned to set up an organisation called Doctors Within borders - a slight on renowned charity Doctors Without Borders - with the purpose of providing medical care to Greeks only.
In August, members of the party restricted deliveries of free food in central Athens' Syntagma Square to people who could prove they were Greek.
Political experts said that Golden Dawn was using similar tactics to Hamas and the Muslim Brotherhood to boost support by wooing sections of the population struggling with harsh government austerity measures.
Another plan revealed by Golden Dawn was to distribute Christmas food in Montreal - where the party opened a branch in September - only to Greeks in the city.
City Councillor Mary Deros told CBC the food drive was "racial discrimination in its worst form".
"If you see children in schools of different races, will you only feed one community group and allow the other children to go hungry?" she asked
Golden Dawn's deputy leader in Montreal, Spiros Macrozonaris, said: "Because there are Greek people who are starving, we decided to contact them to see if we can help them."
CBC journalist Joanne Vrakas claimed she had been threatened by members of the neo-Nazi party because she had reported on them in the past.