Members of Greece's far-right Golden Dawn party have restricted deliveries of free food only to people who could prove they were Greek.
Organisers asked for ID cards of dozens of people surrounding a delivery truck in Athens' Syntagma Square for a handout.
The unemployed and the people with many children were served first. More than 200 people showed up, according to witnesses.
One woman in the queue told the BBC that the initiative made "Golden Dawn much more attractive".
Another one said she did not vote for Golden Dawn, which saw support jump from 0.46 to 7 percent over three years to gain 21 seats in parliament.
Golden Dawn spokesman Ilias Kasidiaris said the food, which included potatoes, pasta, milk and olive oil, came from Greek firms and Greek producers only.
The party ignored a local authority ban on allowing the food handout in the square.
"Athens mayor Giorgos Kaminis does not mind when illegal immigrants and anarchists use the square," a party member told Ekathimerini website.
Political experts pointed out that Golden Dawn was using tactics employed by Hamas and the Muslim Brotherhood to boost support among the population, which is struggling with harsh government austerity measures.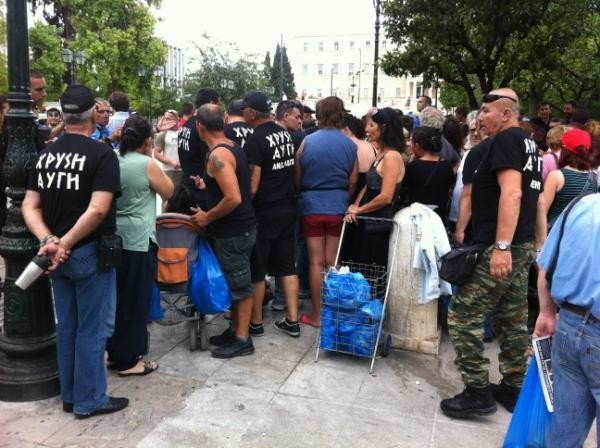 Golden Dawn is regarded as a neo-Nazi party in Greece.
Leader Nikolaos Michaloliakos rejected claims of affiliation with Nazism, even though the party's emblem, a squared spiral, and its colours recall closely the swastika. Michaloliakos made a Hitler-style salute when he was elected in 2010 to Athens city council.
Golden Dawn has appealed to a growing nationalist backlash against financial screw-tightening demanded by the EU and IMF, which has been balmed for plunging Greece into economic turmoil.
The party's main policy is to get rid of all illegal immigrants.
The party criticised the decision to expel Greek Olympian triple jumper Voula Papachristou for a racist tweet mocking African immigrants and voicing support for the party.
It released a statement saying the athlete's punishment was a display of inverted racism
It said the Hellenic Olympic Committee's decision shows how the Greek "system ... literally exterminates, for paltry reasons, whoever dares to express a different opinion, even in jest".