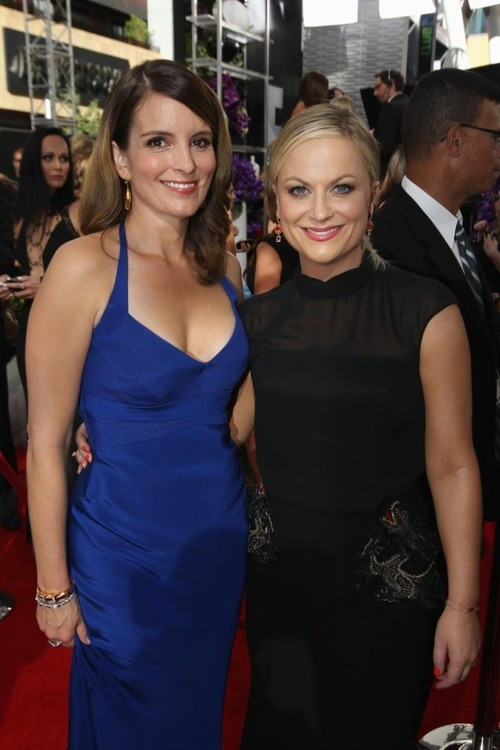 The 71st Golden Globe Awards are around the corner and while they will confirm predictions for this year's subsequent award shows, namely the Oscars, there is a lot more to the 2014 Globes than getting to know about the winners and losers. According to a Yahoo Movies report, here are the top five happenings that will highlight the show.
1. Amy Poehler and Tina Fey's Hosting Act
After a super successful hosting stint at the 2013 Golden Globe Awards, real life best friends, Amy Poehler and Tina Fey were reportedly offered a whopping $4m each by the The Hollywood Foreign Press Association. Amy and Tina hosting this year's Globes is one of the main attractions of the award show.
2. Red Carpet Glamour and Glitz
The Golden Globe Red Carpet is almost as awaited as the main show itself. The crème de la crème of Hollywood will turn up looking their best before world media. Whether it was Jennifer Lawrence in her red Dior Haute Couture gown which she wore for the 2013 Globes or Emily Blunt who dazzled in a golden Michael Kors dress, it's a treat for fans all over the world to see their favourite stars glimmering on the red carpet.
3. Reunions
Between hectic shooting schedules and film promotions, most Hollywood folks get too busy to stay in touch with co-stars. The award season offers an opportunity to catch up and makes for a good mini reunion of sorts. This year, George Clooney (whose film Gravity has four nominations) will be seen together with his ER co-star Julianna Margulies who is nominated for Best Actress in a TV Series - Drama for The Good Wife.
Clooney might also get an opportunity to meet his Ocean's series co-stars including Matt Damon (who's nominated for Best Actor in a Mini-Series or TV Movie for Beyond the Candelabra), Julia Roberts (nominated for Best Supporting Actress in a Motion Picture for August: Osage County) and Don Cheadle (nominated for Best Actor in a TV Series, Musical or Comedy for House of Lies).
Wolf of Wall Street star Leonardo Dicaprio will also get a chance to meet his Titanic leading actress Kate Winslet during the Red Carpet event.
4. Miss Golden Globe
Miss Golden Globe (also Mr Golden Globe) is an annual title awarded by the Hollywood Foreign Press Association. The honouree, traditionally the offspring of an established celebrity, assists in the award ceremony.
Francesca Eastwood (daughter of Clint Eastwood and Frances Fisher) and Sam Michael Fox (son of Michael J Fox and Tracy Pollan) shared the duties of assisting with the various goings-on of the 2013 Globes ceremony.
This year's Miss Golden Globe is Sosie Bacon, the 21-year-old daughter of Kevin Bacon and Kyra Sedgwick.
5. The Opening Segment
Barry Adelman, executive producer of the 2014 Golden Globe Awards calls the introductory segment of the show, "the most star-studded six-to-eight minutes of TV anyone could see".
Although it has not been disclosed what the opening act will be, Ademan's teaser reportedly makes it something to look forward to.