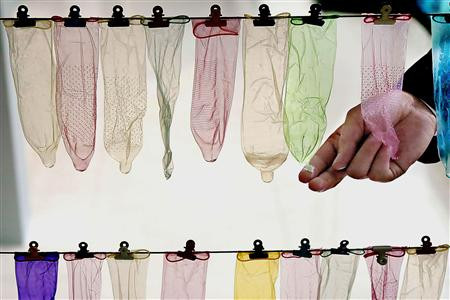 Joe Nelson believes too many men are wearing the wrong size of condom, but are too embarassed by the current range of sizes.
The banker stumbled across a custom-fit condom patent online six years ago and decided to go into business for himself rather than tangle with the Euro crisis.
"A better fit means better sex," Nelson, 30, told the London Evening Standard.
"Condoms are just like shoes - if i give you the wrong size, they won't be comfortable. If the condom is too big, it can fall off. For the larger guy, it can be painfully tight, like a rubber band around the waist."
Theyfit Condoms aim to banish men's fears over measurements and to decrease the number who don't use protection.
"The main problem with condoms today is non-use," he added. "They are a crucial way of stopping the spread of STDs but men don't like them."
Customers download the Theyfit "Fitkit" chart and use it to measure their length and width to ensure the perfect fit.
Nelson happened to stumble on the patent for cuitom-fit condoms online and clicked on it by impulse. He decided to focus on the business and leave banking behind.
Nelson has exclusive distribution rights for the condoms and says that orders are rolling in. Nelson said he believes more women are buying them for their partners.
"I hope it allows them to broach the subject of condoms with their partners more easily."