Google is to hold a press event on 29 October where it is expected to announce the new Nexus smartphone, celebrating five years of its Android mobile operating system.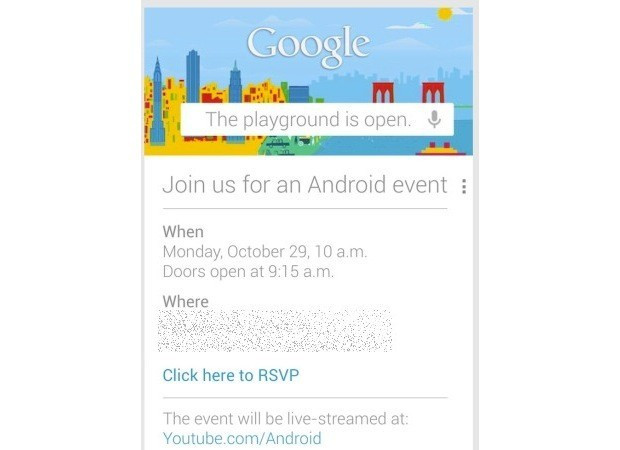 The 29th is looking like a busy day for the tech industry, as this New York event falls on the same day and at roughly the same time as Microsoft's launch of its Windows Phone 8 OS, a direct rival to Android and Apple iOS.
The invite is typically Google, with bright, colourful landscape at the top with the message "The playground is open".
Rumours of a new Nexus device have circulated for some time, with the most recent suggesting that the new smartphone will be provided by LG and has been dubbed the LG 4 or LG Nexus 5 to signify Android's fifth birthday - a milestone that could see Google announce several new Nexus products.
Of course we have already seen one Nexus this year - the Google Nexus 7 by Asus - and the 7in tablet has proved incredibly popular, possibly even prompting Apple to push ahead with its development of the rival iPad mini, which we expect to land on 23 October.
LG is top of the rumour pile for now, but speculation is also pointing towards a new Android device from HTC, and after the Japan-only launch of the 5in HTC J Butterfly, all eyes will be on a similar phone for the rest of the world.
Whatever device - or devices - Google announces in New York on 29 October, we are sure to see them running Android Jelly Bean out of the box, although a few tweaks to the operating system wouldn't be a surprise; the next Android, expected to be called Key Lime Pie, will almost certainly arrive at a later date.
Microsoft will no doubt be annoyed at the timing of Google's announcement, at the end of what we expect to be an incredibly busy month for consumer tech, with the iPad mini, Windows 8, Windows Phone 8 and Google all making an appearance between 23 and 29 October.