The smart home wars have officially begun as Google has finally given a release date for its artificially intelligent domestic helper, Google Home - a direct rival to the popular Amazon Echo.
The voice activated smart speaker with its Google Assistant built-in allows users to interact by simply talking to it, asking it a question, or getting it to perform a task like "is there traffic on my journey?" or "turn off my lights". You can also access music, get answers from Google, manage your daily schedule and control connected devices around the home - all this without having to reach for your phone.
Google Home was first teased at its I/O conference earlier in 2016 and gave a glimpse of how households will be thrust into the future with the virtual assistant at owners' beck and call. the design was evidently inspired by things around the home such as wine glasses and candles so it won't stick out like a sore thumb. It goes up against Amazon's Echo - another wireless smart speaker that was the first to carve out this new sector in IoT. The Echo has been a cult-like product in the US for the past two years and has enjoyed owning the market, but as Google demonstrated its own effort during an impressive demonstration, Amazon will no doubt be looking over its shoulder.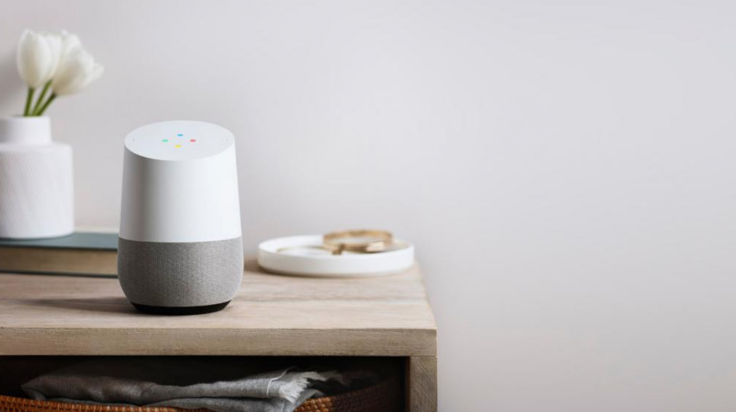 Under the customisable case (which comes in three fabric and three metal options) there's four forward-firing speakers that claim to offer "rich bass, clear highs". Amazon's Echo also has decent audio, so will be interesting to compare.
Its dual microphones are also designed to filter out noise from a spoken request so barking dogs and screaming children won't ruin your quest for the answer to find out what goes into a sponge cake.
What can Google Home do?
Music:
Accessing music will be a key focus for the Google Home. Voice search for services like Spotify, Google Music, Pandora and TuneIn radio will offer users an easy, new way to listen to tracks. One clever feature of Home is the ability to find songs even if you're unsure of the title. Using the resource and smartness of its search data, you can give it a vague description and it'll find it (well, it did during the demonstration, natch).
Answers:
Thankfully, Google has been in the game of getting people answers for sometime, which is why Google Home is expected to excel in this area. Just as you would use your hands to type a question to the search engine, here you simply shout it out. Using its massive knowledge graph, which it claims has over 70 billion facts on people, places, things it can be pretty useful when you've got a head scratcher or need to settle a dispute. What it doesn't know it can pull in from Wikipedia or websites with best answer using snippets.
Controlling your home:
This is the most sci-fi feature and most intriguing one for Google home. It can sync up with other connected devices such as Philips Hue lighting and Nest thermostats to allow you to change the ambience and temperature in you home by simply asking it. It also has IFTTT integration for more advance smart home automation and hooks up to Chromecast and Chromecast Audio meaning you can tell your TV and audio system hat to play rather than using an old-fashioned remote. Pfft.
Organise your day:
As expected it'll sync up with your Gmail and calendars so it know where you need to be and at what time and like Google Now, it can let you know it traffic is on your route. Other neat little tricks include setting up cooking timers or flipping a coin, presumably to settle whether you go to the pub or gym.
Price and availability:
Google has come swinging into the smart speaker market at $129 (in the US), which is an aggressive undercutting of Amazon's Echo which is priced at $179.99 (£150 in UK). It is available for pre-order from today and will begin shipping in the US on 4 November. Disappointingly, no mention of UK price or availability was mentioned at the announcement. When IBTimes UK spoke to Google all they were able to say was "we wanted to make sure the knowledge graph perfect before launch, but it's coming very soon." Stay tuned.