Is Google Home always listening to me? It's one of the most common questions asked about the voice-activated smart speaker. With wary consumers still unsure whether Google is spying on their conversations, it's time to separate the fact from fiction.
Google Home is muscling in on Amazon's dominance in the market, meaning there's going to be a whole new audience of people looking cockeyed at the little speaker. IBTimes UK has already busted the privacy myths surrounding Amazon's Echo, now let us set the record straight and help quell any fears over Google's ominous omniscience – it's not eavesdropping. IBTimesUK spoke to Google engineers about how it works and what it does with your data.
Is Google Home spying on conversations?
The biggest myth about Google Home is that it's continually recording what you say in the privacy of your home. While technically its microphone is always on, it's only listening out for the 'Okay, Google' hotword to activate it. It only records around two-seconds of audio, discards the snippet, then starts again. Anything that was recorded isn't saved we were told.
Like the Amazon Echo, the speaker's microphone is constantly listening out for users to say the hotword to activate it and will display its four coloured LEDs on the top to let you know it has an ear out. It's not bugging your home like some reports lead you to believe.
You can freely talk about your darkest secrets next to your Home without any fear it's setting off any alarms at Google HQ.
Can I stop Google Home from listening?
Yes. A microphone mute button is located at the back. It has an icon of a microphone with a line diagonally through it. You could also switch the unit off altogether if you're really paranoid, but as we've explained, you don't need to do that and there wouldn't be much point in owning one if you did.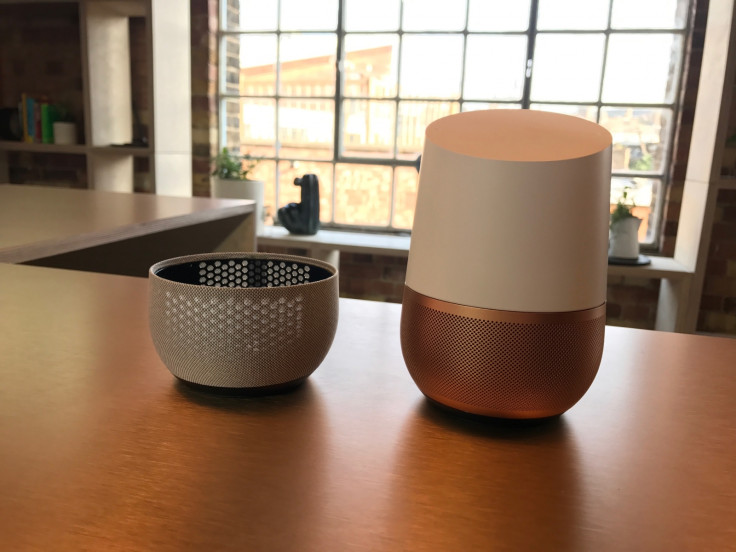 Is Google Home storing my activity?
Yes. We know Google isn't jotting down endless conversations in the privacy of your home but what you should know is that any questions, queries and commands you direct at Google Home are stored on its servers for an indefinite amount of time. This may sound slightly unsettling but Google assures us it's not for nefarious purposes – it's to make its Home more effective. The more search queries owners feed google Home the smarter it becomes. The reason why Google's online search is so good at getting results is because its deep learning has refined the answers over 18 years for billions of searches, including ones that are full of typos or inaccurate. It also gathers data to make Google Home offer more personalised answers to users.
Where things get less transparent is when you use Services. Third party app-like add-ons such as Uber and Domino's do store your conversation history (things like last pizza you ordered) so next time you use it it'll be able to remember your preferences. According to Google, it transcribes what you say and sends the text, but not the audio, to the third-party service provider.
Can I delete my activity?
Yes. Users are able to see everything they've asked Google Home on the Google Home app and delete as desired. To do this you need to tap the menu button (three vertical lines) at the top left corner and select more settings. Scroll to the bottom of the page and tap 'My Activity'. Here you will see all your interactions. Tap the options icon (three vertical dots) on any activity and hit delete to remove it from results.
Can Google Home access my personal data?
Yes. But only if you allow it. One of Google Home's selling points is that it can connect to your Gmail, calendar and location data (ie maps) so it can tell you what you've got on the schedule for the day and things like if there's traffic on your daily commute. Of course, you can turn this all off by going to the My Activity section of the app but you'd be losing a rather useful feature of the device.
Does Google Home share my personal data with anyone?
Yes and no. According to Google's Home support page it does not sell your personal information to anyone, however it says it does share information with some third parties. It lists an example of ordering an Uber through Google Home, whereby it would send the company your details in order to process the transaction.
Is Google Home or Amazon Echo more secure?
Neither should fan fears of eavesdropping. They both work in very similar ways to how they 'listen' out to owners' hotword and both have activity logs in their respective apps where you can delete interactions as you please. They both will share your information with some third parties if you give it permission but this will likely to be something you would have needed to supply in order to use that Service or Skill in the first place.