Apple's new iPhone is yet to break cover from the company's secret California design studio and test facilities, but that hasn't stopped the leakers, tipsters and rumour mills keeping themselves busy.
So far, this has mostly resulted in analyst claims and fan-made renders. But now we might have our first glimpse at the real deal. Posted to Weibo, the Chinese equivalent of Twitter, on 13 April, was a photograph which appears to show schematics drawings for an as-yet unreleased iPhone.
Claiming to come from Foxconn, the Chinese company which produced goods for Apple, including the iPhone, the drawings show a handset with a much larger screen than on any current iPhone. The device has minimal bezels around the display, a rear camera with two lenses arranged vertically, and a home button located on the back, below the Apple logo.
A set of measurements suggest the handset will be the same thickness as the iPhone 7 (7.1mm), but taller (149mm vs 138mm) and wider (72.5mm vs 67.1mm).
The device shown here is described as EVT 03; 9to5Mac, the website which published the image, explains: "This is supposedly an image of design drawings for the iPhone 8's Engineering Validation test third revision. EVT is an early stage in the Apple product development cycle, the device must still pass through design Validation test and Production Validation Test stages to be finalised."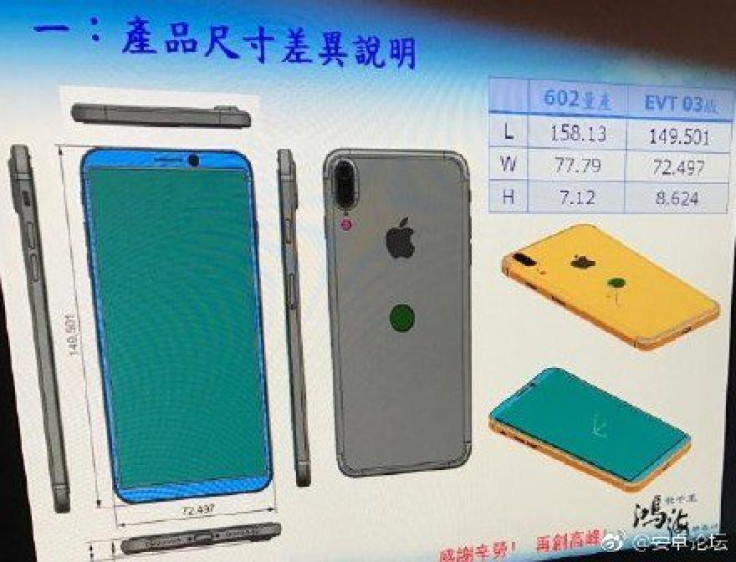 Rumours had until now claimed the new iPhone would feature a home button and Touch ID fingerprint sensor embedded into the display, in a similar location to where the button is today on the iPhone 7. But claims Apple is struggling to produce such a system suggest the design you see here, with the home button on the back, is a backup solution if the situation can't be rectified in time. Apple traditionally announces the new iPhone in early to mid September and puts it on sale around 10 days later.
Apple is expected to reveal three new iPhones this year. Two will act as updates to the iPhone 7 and 7 Plus (called the 7S and 7S Plus), while the third will feature the edge-to-edge screen seen in these drawings and have a higher price.