The wait is over, Google Home – the smart speaker rival to Amazon Echo – is finally being released in the UK and Europe.
Those waiting to welcome the voice activate gadget in their homes won't have to hold out much longer after Google gave its speaker an 6 April sale date. It will be available from Google's online store, as well as Argos, Dixons, John Lewis, Maplin and UK mobile network EE.
Google Home price
Google Home will cost £129, which will undercut Amazon's Echo that currently costs £150. This will give the online retailer something to think about and will certainly hot up the smart speaker market.
What does Google Home do?
Google Home can answer questions, be instructed to do things like control your smart home or play music, and be synced to users' calendars and Gmail accounts so it can tell you what your day looks like. However, the biggest draw of Google Home is being able to tap into the vast knowledge database that powers the search engine – meaning answers to questions should be accurate and replies more natural. Unlike Amazon Echo's Alexa, it also has the ability to handle follow-on questions so you can talk to Home in a more natural, less fractured, manner.
Google said it has a vision of the connected home and we're currently at a tipping point with the rise of machine learning and artificial intelligence. At the UK launch event Google waxed lyrically about the four main uses for the Google Home: getting answers, getting things done, its audio and using it to control smart homes.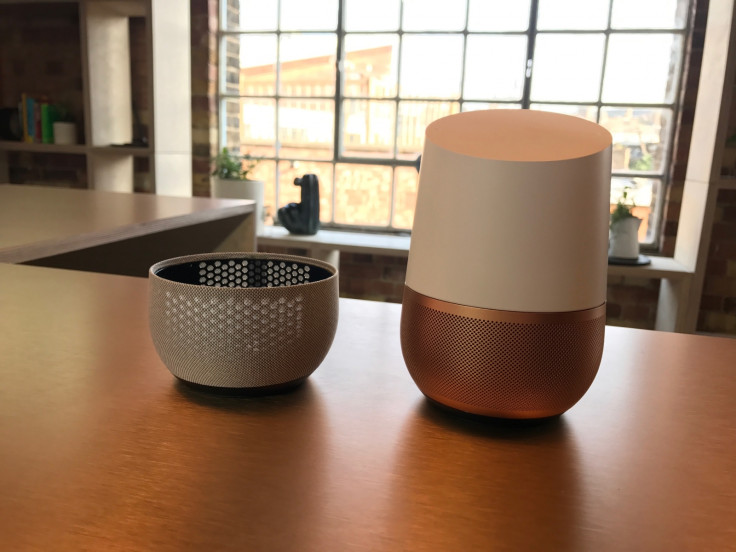 Being controlled by shouting out "Google" everytime you want to ask it something, there has been heavy research into making sure it hears users. Google said it has sampled thousands of noisy environments to make sure it picks up your queries even in loud places.
Google Home design
The gadget stands at 14.3cm high, about half the size of a bottle of wine, (its design is actually supposed to be influenced by wine glasses and candles – things you'll find in the home) so offers the same tabletop experience as the Echo.
"We spent a lot of time to make sure it looks good, not like a traditional consumer electronics device, to blend in anywhere in the home," said Google. With interchangeable speaker grilles users can chop and change to suit their environments, which gives a bit more flexibility to the Echo's choices of just black or white. The coloured bases will be available for £18 in fabric and £36 in metal.
IBTimes UK will get hands-on with the new device and will be reviewing Google Home very soon, including how it stands up to reigning king of smart speakers and our Gadget of 2016, the Amazon Echo.