Google has extended its map editing tools to the UK, allowing users to add extra details such as restaurants, small roads and natural features to Google Maps.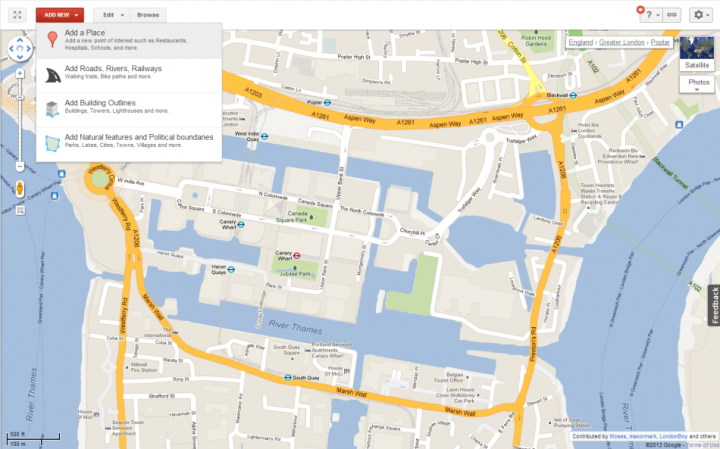 Google Map Maker, the browser-based service that allows map editing, was first launched in 2008 to allow users to add extra features to Google's maps of Pakistan and Vietnam. Before arriving in the UK, Map Maker was available in many other countries including France and the US.
Accessing Map Maker, users are presented with a dashboard that lets them add a "place" such as a restaurant or a cinema; add a road, railway or river; add an outline to an existing building to better define its size and shape; or add a natural feature such as an area of forest or a lake.
The changes made in Map Maker are then reviewed and approved by other users as well as Google staff, who will add them to Google Maps once they're confirmed to be accurate.
"We have a trust moderation system in place and that algorithmically figures out whether we can trust this person and how sensitive the feature is," Map Maker project manager Jessica Pfund told the BBC. "No matter how trusted you are if you change a very prominent feature, like a Tate art gallery, it's going to have to go through a lot more moderation than if you add a small restaurant to the rural countryside."
As well as adding places to Google Maps, Map Maker users can also add specific details about each place, as well as adding relevant internet links with more information.

In a blog post, Google says that more than 40,000 people around the world contribute to Google Maps using Map Maker.
Google is now competing with Apple and Nokia over GPS mapping technology. In 2012, Apple launched its own Apple Maps platform, replacing Google Maps as the standard mapping app on iOS. However, after a series of problems were reported by customers, Apple CEO Tim Cook was forced to apologise for Apple Maps, saying: "We are extremely sorry for the frustration this has caused...The more our customers use our Maps the better it will get."
Apple is now trying to improve its mapping service, having recently purchased indoor mapping startup WiFiSlam, which uses compass and Wi-Fi information from your smartphone to pinpoint your location indoors within a range of 2.5 metres.
Nokia is also looking to bolster its mapping service. The Finnish company is currently beta testing a Map Creator facility for its Here maps service, though maps of the UK are currently not available to edit.