Google Nexus 4 Sells Out as Music Service Launches in UK
Google's latest Nexus smartphone has sold out in less than 30 minutes, as the company launches its Music store and streaming service in the UK .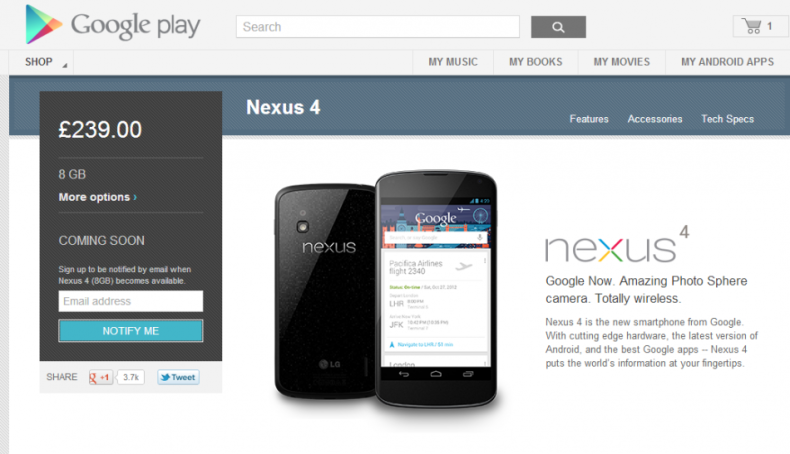 Google's Nexus 4 smartphone, manufactured by LG, went on sale in the UK at 8.30am this morning, with the first reports of the smartphone being sold out appearing on Twitter less than 30mins later.
Currently the Google Play store is saying both the 8GB and 16GB versions of the Nexus 4 are unavailable to order, listed instead as Coming Soon, despite having gone on sale this morning. We contacted the Google press office in the UK to clarify the situation, but at the time of publication there had been no reply.
The Samsung-manufactured Nexus 10 tablet also went on sale this morning and at the time of publication the 32GB model was also out of stock, however the 16GB model is still available to purchase for £319.
The Nexus 4 and the Nexus 10 joined the Nexus 7 in Google's stable of own-brand devices which aim to show off the company's own operating system Android to its fullest potential.
As well as providing a pure Android experience the Nexus devices are aiming to undercut competitors in terms of pricing as well. The high-spec Nexus 4 costs from as a little as £239 SIM-free through the Play store, which is more than half the price of the cheapest iPhone 5 (£519).
The Nexus 4 is also available only from O2 in the UK, costing £399 on prepay or £299 on a £26-a-month two year contract.
The Nexus 10, costing from £319, is also significantly cheaper than the comparable iPad (£399) while the Nexus 7 is £110 cheaper than the iPad mini.
Google Music UK Launches
One of the main ways Google is looking to recoup the lost profit from selling these devices at near cost price is through selling content.
Apps, books and films were already available through the Google Play store in the UK, and last night Google launched its Music service in this country.
Google Music has been available in the US for a while now and like Apple's iTunes it is an online music store, selling albums and singles. The Music service is tied to your Google account, allowing you to browse your music collection through a web browser on a PC or through the Google Music app on your Android tablet or smartphone.
When you purchase an album or single from Google Music is it not automatically downloaded to your smartphone or tablet, but is instead added to your music collection in the cloud, from which you can then stream it on any of your devices.
If however you don't have a constant data connection or don't want to waste our data allowance, then you can download your music locally for listening offline.
An initial look at the variety of music on offer shows that Google seems to have a wide range of musical choices available, offering competitive prices when compared to iTunes, the world's biggest music store.
For example the number one album from One Direction on Google Music cost £5.99 while it costs £7.99 on iTunes. The number three album, BBC Radio 1's Live Lounge 2012 is £3 cheaper on Google Music than on iTunes.
There is also an option to upload your own music collection to the cloud using Google's Music Manager application, so it is accessible wherever you are. Each user gets space for up to 20,000 songs.