As the Nexus 4 sells out online, more leaked images and video of the Nexus 5 appear online ahead of expected launch on 14 October.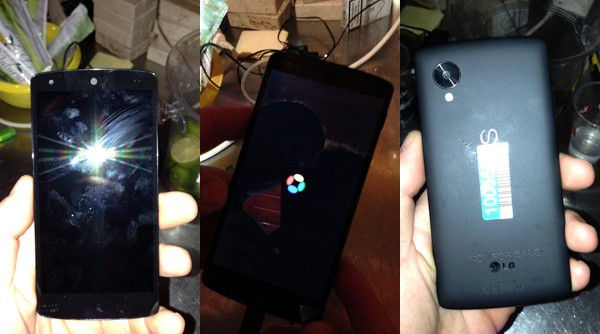 By the time Google finally unveils its latest Nexus smartphone, we suspect there will be very little we don't know about the so-called Nexus 5. Between glimpses of the device in use by Google's own employees, to FCC filings and fan renders, we have a pretty good idea of what the LG-made device will look like.
The latest leaks come via 9to5Google who received a few snapshots of the phone taken in a dimly lit bar by a barman who found the phone simply charging at the bar. The images show the phone is clearly a prototype with a "Not for Sale" sign emblazoned on the rear of the device.
The phone was left on the bar by a Google employee and is reminiscent of an incident a few years ago when Apple employee Gray Powell left a prototype iPhone 4 in a German bar in California.
The images show a device very similar to the one seen in the promotional video for Android 4.4 (KitKat) and seen in several FCC filings in recent weeks.
New information
A couple of very brief videos (see one below) were also take of the phone in use, but because it was locked, there is not much new information to be gleaned from them.
The images however do give us a very brief glimpse of what the Android KitKat boot up screen might look like.
The leak comes on the same day that the Nexus 4 smartphone has sold-out on numerous online Google Play stores around the world. While the UK store says the 16GB model is in stock, if you actually try and purchase it you will get an error message. Numerous reports suggest Google won't be replenishing stocks, strongly indicating that the launch of the Nexus 5 is just around the corner.
Earlier this week a report from Australian website Ausdroid, said that Google would be launching the Nexus 5 at an event on 14 October. This would seem to fit with an October release date for Android KitKat and it would mark one year since the launch of the Nexus 4.
The Nexus 5 will once again be manufactured by LG with the phone featuring a 5in Full HD screen, will feature the powerful Snapdragon 800 chip from Qualcomm and despite the increase in screen size will actually have a smaller footprint than the Nexus 4.