A white version of the Nexus 5 has leaked online indicating a release date of 1 November.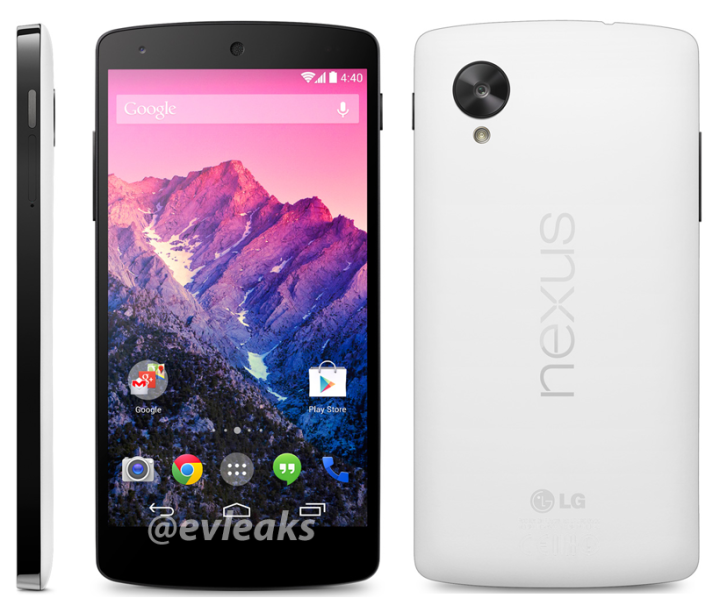 Possibly the worst kept secret in the technology world, Google's latest flagship Android smartphone, the as-yet-unannounced Nexus 5, has been speculated about more than most phones which have been launched ever get talked about.
We have seen it appear on film, in blurry pictures, on Google's official Play Store and now in what looks like a new press images of the white version of the Nexus 5.
The leak comes from the mysterious @evleaks Twitter account which has built up a reputation for leaking accurate and real images of smartphones and tablets before they have been announced.
Nexus 5 Release Date
And while the white cover of the phone is interesting, the most intriguing part of the tweet is the attached text, which simply says: "In white. 11/1." This suggests Google will launch the Nexus 5 at the end of this week - which tallies with suggestions made earlier this month when the phone made a brief appearance on Google's own Play Store.
We have had numerous speculated release dates mentioned over the last month, with most having now past, including 14, 15 and 24 October. Therefore we are talking this latest suggestion with a large pinch of salt.
Google has yet to make any official statement on the matter, and has not issued any invites to an event for Friday, 1 November.
Android 4.4 (KitKat)
The phone will be the flagship model for the Android 4.4 (KitKat) version of Google's dominant operating system. The new software will bring a number of new features including the ability to choose a specific app to handle SMS text messages.
The version of Android is named KitKat thanks to a deal struck with Nestle which will see Android advertised on some of Nestle's chocolate bars.
Despite not being officially announced yet, we already known most of the specifications thanks to filings with the US Federal Communications Commission (FCC) and a leaked Nexus 5 manual.
Nexus 5 specs
The phone is likely to feature a 5in Full HD screen, will be powered by the latest Snapdragon 800 processor from Qualcomm paired with 2GB of RAM, will feature an 8 megapixel camera and support the various 4G networks in the UK.
The phone is likely to come in 16GB and 32GB versions with reports suggesting the larger version will have a larger 3,000mAh battery while the 16GB version will have to make do with a 2,300mAh battery.
The only factor we don't know for certain is the price. Some reports put the phone price at $299 (£187) for the 16GB model, while the 32GB model will cost $399 (£249).
It is likely that we will know for sure sooner rather than later as Google and its hardware manufacturer LG will be hoping to take advantage of the Christmas sales rush.