Google has established itself as a serious contender in the budget tablet segment with the release of the £159 Nexus 7. Incidentally, the Nexus 7 is also the first Android tablet to feature the new software v4.1 (Jelly Bean) onboard and also features Project Butter. The Nexus 7 offers users the chance to toy with a range of apps, from Play Books, Play Music, Play Movies & TV. These basic apps should do for most needs but IBTimes UK decided we should go a step further and really unleash the power within the Nexus 7... particularly since the User Interface (UI) on the Nexus 7 makes using high-power apps as fun as if it were a 10in screen.
Here is a roundup of the best apps for the Nexus 7:
Mint (Free)
Mint is a free app for Android that lets you draw charts and graphs depicting annual financial figures including credits, debits and investments. You can even create and modify budgets within the app, by installing the latest version.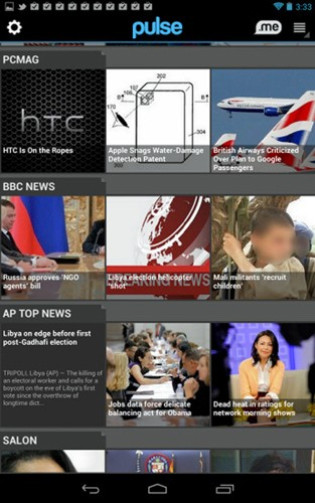 Pulse (Free)
Pulse consolidates news from thousands of sources and displays them in a legible, scrolling format complete with artwork. The source list is customisable and allows you to expand news items that interest you by clicking on the plus sign next to it. You can even personalise the news-list, which appears in real-time, based on your taste.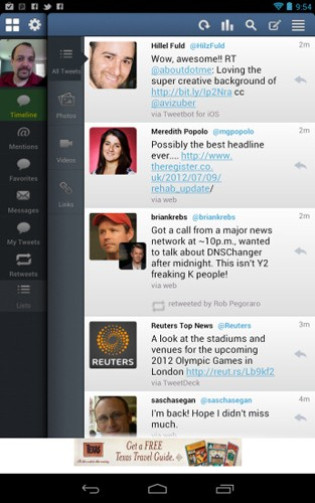 TweetCaster (Free)
TweetCaster is the lightweight substitute for Twitter's official mobile app. It provides a slick and smooth browsing experience, taking advantage of the Nexus 7's tiny screen powered by the Project Butter UI. Its key features include advanced search, customisable retweets and content filters, besides setting up customised tables for local trends and retweets.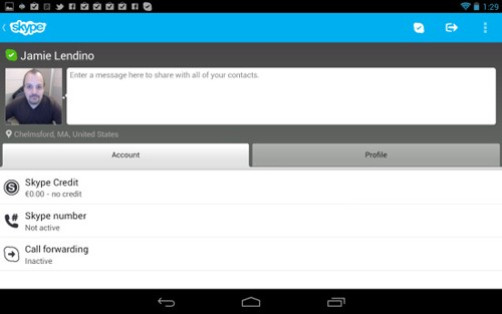 Skype (Free)
Take advantage of inexpensive video calls, audio calls and Instant Messages, while getting the best of the Nexus tablet's front-facing camera and microphone. Although Skype has not officially certified the Google Nexus 7, PCMag has successfully tested functionality.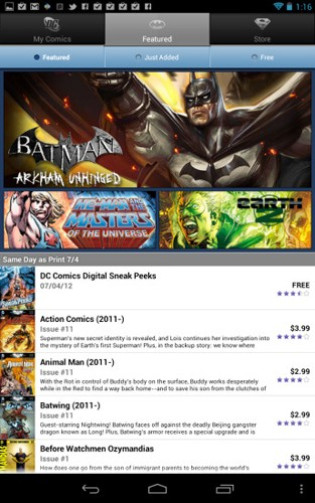 DC Comics (Free)
DC Comics is a free app which brings comic book content to the Nexus. Fans of Superman, the Green Lantern and Batman can rejoice. The app also supports guided view and full-page views for those comfortable reading on larger screens. It also has a pinch zoom function in case the fonts are too small for your liking.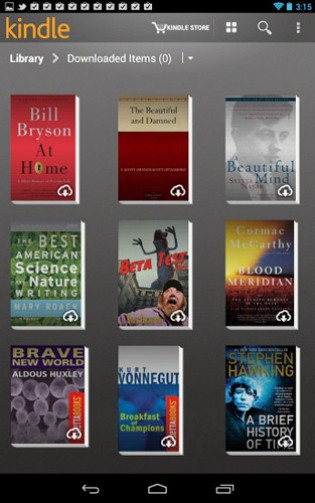 Kindle
Google Play Books' collection numbers over 4 million titles, although Amazon boasts a more refined search algorithm. The Kindle lets you sync e-books from similar apps or run multiple e-book syncing apps. The Kindle app makes the best use of 7in screen, in comparison to dedicated e-readers, with refined control over margins and line spacing.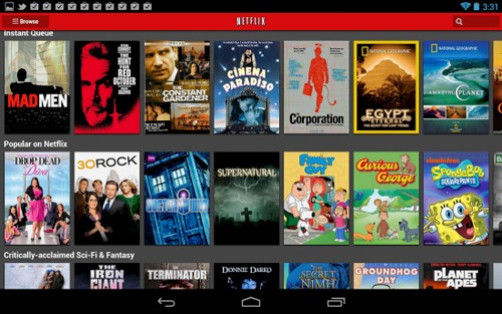 Netflix
The ultimate app for all streaming video, movies and television shows. You may not always find fresh content but the service will still offer the most popular content in one place. You will be charged a $7.99 subscription fee per month but you will be allowed access from all devices you own. For instance, you may install the app on your Nexus tablet and play the programme through your PlayStation 3 (PS3) or Blu-ray player. The latest version also adds support for Jelly Bean, so that is one less issue to worry about.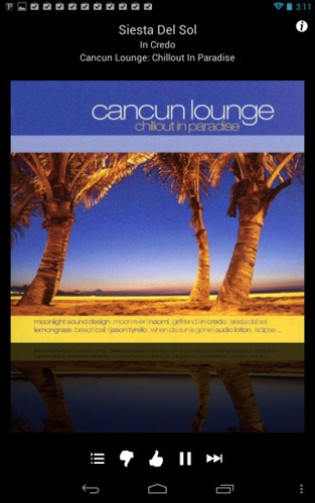 Pandora
Pandora is a free music player and library aggregator which breaks genres of music by tempo, chords and other features at the granular level. It provides a rich tablet-based interface that's ideal for the Nexus. The app is designed to pause audio playback whenever you unplug your headphones, thus preventing unwanted playback through the tablet speaker, It also stores track information for playback resume function.