We put the Nexus 4 side-by-side with Apple's flagship, iPhone 5, to help you to decide which is best for you.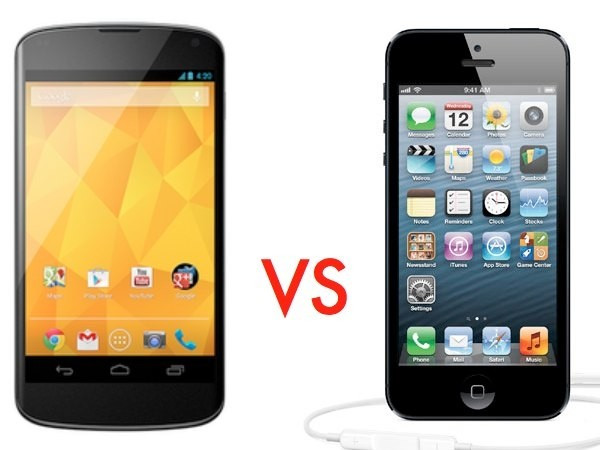 Google has recently launched the Nexus 4 smartphone manufactured by LG, which is the latest in the Nexus line of flagship Android devices. The Nexus 4 is claimed by Google to feature a "sophisticated hardware design" and the handset will be available at Google Play store from 13 November in several countries, including the UK.
The Nexus 4 features a powerful 1.5GHz quad-core Snapdragon S4 Pro Processor, which Google claims is the fastest on the market. It sports an exotic feel to the body with its back made of layered glass that is etched in an artistic design work.
The Nexus smartphone, like all Nexus devices, is the flagship device for Google's latest operating system, Android 4.2 (Jelly Bean), which was also unveiled earlier this year.
Here, we compared Google's latest flagship smartphone, with the undisputed king of the smartphone world, the iPhone 5 - comparing screens, power, performance and price:
Nexus 4 vs iPhone 5: Display
The Nexus 4 sports a 4.7in WXGA True HD Plus display that supports a native resolution of 1280 x 768 pixels to produce a pixel density of 320 pixels per inch (ppi).
Its screen is laminated and uses LG's new G2 technology that integrates the touch sensor into the Gorilla Glass 2 outer layer, which makes everything look thinner as well as bringing the actual pixels closer to the surface of the display.
Apple uses a similar technology on its iPhone 5 called "in-cell touch", which integrates the touch sensor into the display panel.
In addition, Google reveals that the Nexus 4 display features a 'Zerogap Touch' technology, which is meant to enhance viewing angles and lessen reflection. Google claims the "cutting edge" display technology will make users "feel like touching every pixel on the screen."
The iPhone 5 offers a smaller 4in screen which has a native resolution of 1136 x 640 pixels at a pixel density of 326ppi.
Nexus 4 vs iPhone 5: Dimensions
The Nexus 4's screen is curved slightly at the edges, as Google claims it's meant to enhance swiping in from the sides of the device. The Nexus 4 measures 134 x 69mm, and is 9.1mm thick.
The iPhone 5 is a taller and lighter than the iPhone 4S, measuring 124 x 59mm and just 7.6mm thick. In terms of weight the iPhone 5 is 27g lighter than the Nexus 4 at just 112g.
In terms of weight and size, the iPhone 5 is both lighter and smaller than the Nexus 4, which isn't surprising considering the smaller screen. Choosing which design you prefer will boil down to personal preference.
Nexus 4 vs iPhone 5: Operating System
The Nexus 4 is powered by Google's latest mobile software - Android 4.2 (Jelly Bean), which was announced alongside the announcement of other Nexus devices. The update brings a number of new features, including an additional feature within the camera app called Photo Sphere
The new camera feature allows you to take overlapping shots of a scene and then stitch the images together to form an immersive panorama shot, just like Street View. Users can share their favourite photos on Google+ or add them to Google Maps.
Another new feature called Gesture Typing allows users to type by swiping between the letters of a word - similar to the Swype keyboard. Other key features include support for wireless display which enables users to share movies, YouTube videos and other videos and images on their TVs.
Other notable feature enhancements include Daydream mode - essentially a screensaver, enhanced Google Now, Google search, Android Beam and Gesture Mode navigation for blind users.
The iPhone 5 uses iOS 6, which was launched along side the iPhone 5. iOS 6 hit the headlines for Apple's decision to replace Google Maps with its own Maps app, which was no where near complete when it launched. It led Apple CEO Tim Cook to take the surprising step of publicly apologising for the piece of software.
iOS 6 also features enhanced Siri functionality, Facebook integration, FaceTime over cellular data and Do Not Disturb that rivals the Reject Call feature on Android 4.2 (Jelly Bean). It also offers the Passbook app that stores all of your coupons and boarding passes.
Google Nexus 4 vs iPhone 5: Processor
The Nexus 4 is powered by Qualcomm's Snapdragon S4 chip featuring a quad-core Krait processor and paired with an Adreno 320 graphics unit. The quad-core processor runs at a clock speed of 1.5GHz, which is faster than the iPhone 5's Apple A6 dual-core processor clocked at 1.2GHz, though the tight software/hardware integration of Apple's products means the difference is not so easily measured.
.The iPhone 5 features a PowerVR SGX 543MP triple-core graphics unit.
Apple claimed at its iPhone 5 launch event that the phones processor speed is twice as fast as the previous iteration, which is attributed to the introduction of the new A6 chip onboard.
The Nexus 4 comes with 2GB of RAM, double that available on the iPhone 5.
Nexus 4 vs iPhone 5: Camera
The Nexus 4 features an 8 megapixel rear-camera with features such as auto-focus, LED flash, touch focus, geo-tagging and face detection. The camera is capable of capturing video in 1080p at 30 frames per second. The device also adds a 1.3 megapixel HD front-camera for video-calling.
The iPhone 5 features an improved iSight camera with improved ability to take low-light photos and support for panoramic shots. This feature allows users to stitch together large chunks of photos taken out of captured videos to create a panoramic image.
Teh camera specifications of both phones look to be on a par with each other, though the iPhone has a few advanced camera features such as FaceTime over Wi-Fi or Cellular and video stabilisation.
Nexus 4 vs iPhone 5: Connectivity
The Nexus 4 supports Wi-Fi N, DLNA, Wi-Fi hotspot and Bluetooth v4.0 with A2DP. Google recently confirmed that the T-Mobile users will be able to enjoy Nexus 4 with HSPA+ 42 capability for high-speed network connectivity. Nexus 4 also brings the benefit of NFC capability, which is unavailable with the iPhone 5. However the Nexus 4 does not include 4G connectivity.
The iPhone 5 is the first Apple smartphone to feature 4G LTE connectivity which according to Apple enables speeds of up to ten times faster than 3G (100Mbps), or about the same speed as the average home broadband connection. The iPhone 5 also features similar connectivity specifications including Wi-Fi N, Wi-Fi hotspot and Bluetooth v4.0 with A2DP.
Nexus 4 vs iPhone 5: Storage
The Nexus 4 will be available in two storage models: 8GB and 16GB.
The iPhone 5, however, also comes in a higher capacity 64GB model in addition to 16GB and 32GB models. Both the smartphones do not support a memory card slot for expansion.
Nexus 4 vs iPhone 5: Battery
The Nexus 4 features a 2100mAh battery compared to the 1440mAh battery on the iPhone 5. Google claims the Nexus 4 battery will deliver 15.3 hours of talk time and about 390 hours of standby time.
The iPhone 5 battery is rated to deliver talk time of about 8 hours, besides a remarkable 225 hours of standby time on both 2G and 3G.
Nexus 4 vs iPhone 5: Price and Availability
The 8GB version of the Nexus 4 is priced at £239 while the 16GB variant costs £279. The Nexus 4 smartphone is now available for pre-order from Carphone Warehouse, though there is no word on the phone's availability on the Google Play store.
SIM-free, the iPhone 5 16GB model is priced at £529, while the 32GB model will cost you £599 and the high-end 64GB model is sold at £699.
The iPhone 5 is available on all mobile networks in the UK, including EE, Orange, T-Mobile, O2, Three and Vodafone.
EE
The iPhone 5 is available on EE's 4G network starting with contracts of £36-a-month, with an up-front cost of £179.99.
Three
Three's cheapest offer is the Ultimate Internet 500 contract. Priced at £34-a-month (with £79 up-front for the 16GB model), which gives you unlimited data, along with 500 any network minutes and 5,000 texts per month.
O2
O2 offers the iPhone 5 free on contracts starting at £46-a-month. The offer includes unlimited calls and text, along with 1GB of data per month.
Vodafone
Vodafone's cheapest free iPhone 5 deal is £33-a-month with a £149 fee. Arguably more attractive, though, is the £37-a-month contract (with £99 up-front), that gives you unlimited minutes, unlimited texts and 1GB of data every month.