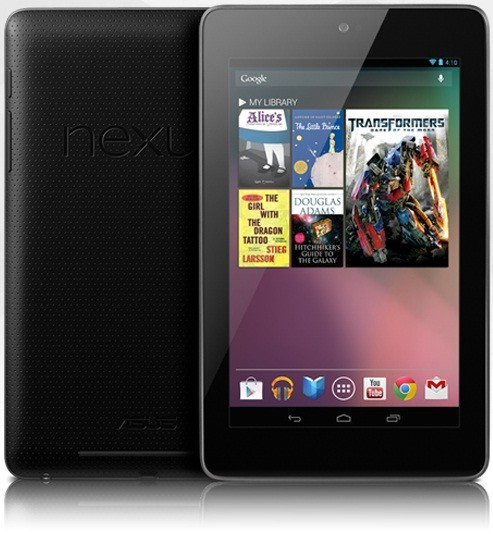 According to an Apple Insider report citing Topeka Capital Markets' financial analyst, Brian White, Apple's iPad is in little danger of losing its dominant position to the newly announced Nexus tablet from Google. The search engine giant unveiled its budget tablet ($199) in partnership with ASUS at Wednesday's I/O developer conference.
Google's newly announced 7in tablet rivals Amazon's Kindle Fire and aims to capture the low-cost segment of the tablet market. The tablet features a quad-core processor by Nvidia and a 1280 x 800 pixel display. It is expected to go on sale in July and pose a stiff challenge to the likes of Samsung's Galaxy Tab.
In response to the announcement of the 7in tablet by Google, White said there was "no threat" to the iPad from the device. He further recalled Google's first Android-based hardware initiative, the Nexus One, failed to cut the deal and added it was met with "muted enthusiasm", to support his point.
"We believe the combination of Apple's expanding digital grid, innovative design, unmatched aesthetics, leading App availability (with 225,000 native iPad Apps), intuitive user interface and expanding technology innovations will continue to keep the Company on top of the tablet market for many years to come," White stated. The financial analyst cited a number of reasons Apple could remain ahead in the tablet market, including the significantly higher number of native apps supported for Apple devices in contrast with Android.
"In our view, Apple's ecosystem still remains the best in the mobile device world with over 650,000 apps in total and 225,000 apps that are native to the iPad," explained the analyst, justifying his decision to favour Apple's iPad over Google's Nexus.
Topeka Capital Markets reportedly maintains its price of $1,111 per share of Apple on an annual target with a rating of Buy.
In contrast, by Google's own admission, the Nexus 7 tablet was rushed to the market. The tablet maker transformed "from zero to working product in four months" said Android chief, Andy Rubin, addressing AllThingsD on Wednesday. ASUS chairman Jonney Shih reportedly said his engineers admitted that the Google project was "like torture" forcing the crew to work round the clock, while their Nexus 7 team was split up around the globe.
It's likely that Apple will not have to worry about Nexus 7 biting into its profit share, as Rubin points out that Google's own profit margins for the device are extremely low.
"When it gets sold through the (Google) Play store, there's no margin," he said, adding, "It just basically gets (sold) through."
Recent market projections from IDC also rule in favour of Apple. The iPad is expected to take pole position after stealing market share from Android this year. The overall tablet share for Apple is pegged at 62 percent for the year, as opposed to an estimated 36.5 percent for Android.