Despite commaning 80% of the smartphone market, Google's Android platform is still trailing Apple's iOS in terms of revenue generating power.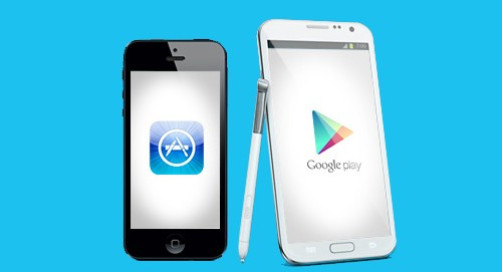 According to data from App Annie Market Index report, Google Play Store downloads are now 25% higher than downloads from Apple's App Store, but Apple continues to generate a much higher level of revenue with App Annie saying Apple's store is generating 2.1 times the app revenue of Google's Play Store.
This however is not a new trend, though Google is increasing its lead over Apple in terms of overall downloads, up from a 10% lead in the second quarter of 2013. Google is also growing in terms of revenue, with the difference between the two stores narrowing from 2.3 times app revenue in the last quarter.
It is no surprise that Google's Play Store is generating much more downloads than Apple's iOS considering Android dominates the smartphone market with an estimated 80% market share, while Apple's iOs has just 14%.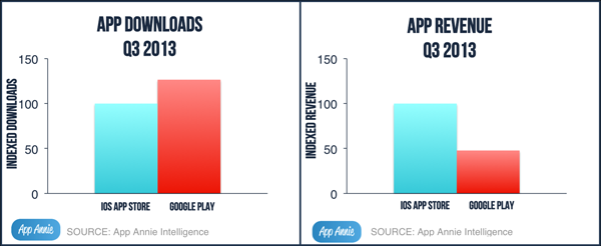 The explosion of Android in recent years has seen thousands of smartphones running the software being released and an estimate 1.5 million activations every single day. This however has yet to translate into a comparably large revenue generator for Google or most developers.
Bric Countries
One of the most interesting biggest trend to come from the data is the emergence of the Bric countries as "app store superpowers."
China appears among the top five countries for iOS downloads and revenue generated, moving up two spots to become the third highest grossing country on the iOS App Store. This is despite the country's largest network, China Mobile which has 750 million subscribers, not offering any iPhones on its network.
Apple is said to be close to agreeing a deal with the network which could help boost the company's revenue generating ability in the world's fastest-growing economy.
The belief that owners of Apple's smartphones and tablets are traditionally located in wealthier parts of the world is backed up by the data from this report. Apple's revenue is generated in countries like the US, UK, Australia and Japan.
Taiwan growth
While Google's app revenue generating regions are also first-world countries in the main, Taiwan was a significant growth market in the last three months jumping three places to become the fifth highest revenue generating country for the Google Play Store.
This was primarily driven by growth in the gaming category accounting for over 80% of the country's Google Play revenue. Another factor that helped support the country's rise in the rankings was the prevalence of 3G networks with almost 82% of their mobile subscriptions on a 3G network, which is more than double the worldwide average of about 30%.
Games continued to dominate both platforms in terms of downloads, accounting for 40% of the total on iOS and Android. Games accounts for 80% of Google Play's revenue while this has fallen to 70% for iOS, down from 75% in the previous quarter.