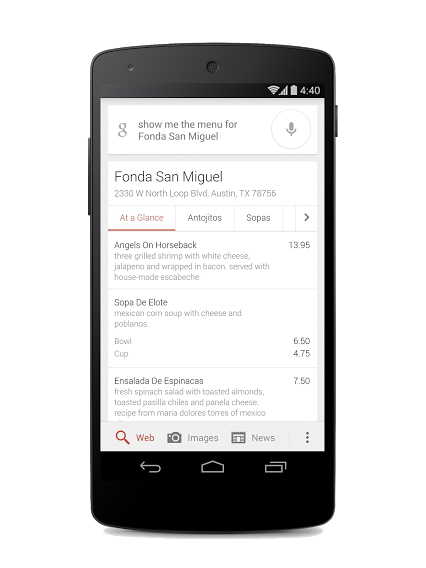 Google is now offering a new method for people to check out a restaurant's menu through its search service. The new feature might pit Google's search service against services like Yelp and Foursquare.
"Just search Google to show you the menu for the eatery you're considering and you can see it right on the top of your search page -- complete with tabs for different parts of the menu (like appetizers, brunch or dinner) and, often, prices -- before you make your reservation," the company said through a post on the Google+ social network.
Those interested in getting a restaurant's menu must simply type or ask "what's on the menu at [restaurant]?" or command Google to "show me the menu at [restaurant]" from any of Google's search products. They will then be served up the establishment's menu.
By entering the name of the restaurant and the city that it is located in, users will be able to see the menu right on Google's page along with prices and availability.
Google says that it is sourcing the menus from an external data provider but the company is yet to disclose the name of this vendor.
The new addition is part of Google's goal to make its search service a one-stop shop for people looking for answers to their many everyday needs. With this move, Google will be competing with services like Yelp and Foursquare, which also offer users menu information.
The new feature is being rolled out to web and mobile to users in the US. The rest of the world will have to wait.